by Jessica Love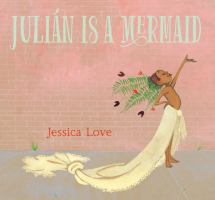 Horn Book
(c) Copyright The Horn Book, Inc., a wholly owned subsidiary of Media Source, Inc. No redistribution permitted.

After seeing three magnificent-looking people dressed as mermaids, Julian creates a makeshift mermaid outfit. Abuela discovers her grandson's attire; how will she react? She helps Julian complete the outfit, then proudly takes him to a festive sea-creature-attire parade. Small but important details add depth to Julian's emotional journey. Vibrant watercolors with gouache and ink create lively scenes that splash and swirl on the page. (c) Copyright 2018. The Horn Book, Inc., a wholly owned subsidiary of Media Source, Inc. No redistribution permitted.
---
Kirkus
Copyright © Kirkus Reviews, used with permission.

Julin knows he's a mermaid.On the el with his abuela, Afro-Latinx Julin looks on, entranced, as three mermaids enter their car. Instantly enamored, Julin imagines himself a mermaid. In a sequence of wordless double-page spreads, the watercolor, gouache, and ink artperfect for this watercentric taledepicts adorable Julin's progression from human to mermaid: reading his book on the el with water rushing in, then swimming in that water and freeing himself from the constraints of human clothing as his hair grows longer (never losing its texture). When Julin discovers he has a mermaid tail, his charming expressions make his surprise and delight palpable. At home, Julin tells Abuela that he, too, is a mermaid; Abuela admonishes him to "be good" while she takes a bath. A loose interpretation of being "good" could include what happens next as Julin decides to act out his "good idea": He sheds his clothes (all except undies), ties fern fronds and flowers to his headband, puts on lipstick, and fashions gauzy, flowing curtains into a mermaid tail. When Abuela emerges with a disapproving look, readers may think Julin is in troublebut a twist allows for a story of recognition and approval of his gender nonconformity. Refreshingly, Spanish words aren't italicized.Though it could easily feel preachy, this charmingly subversive tale instead offers a simple yet powerful story of the importance of being seen and affirmed. (Picture book. 3-8) Copyright Kirkus Reviews, used with permission.