Online Services

You can check out and download the following types of digital materials at this website…

Adobe® EPUB eBooks

Adobe® PDF eBooks

OverDrive WMA Audiobooks
OverDrive MP3 Audiobooks
We have thousands of eBooks and eAudio books. Borrow them instantly, for free, using just the

device in your hand. Get the app for your phone or tablet.

This site streams videos featuring celebrated actors reading children's books

alongside creatively produced illustrations.


Brainfuse is an online resource provider for career services, test prep, software tutorials, and Veteran resources for Iowa public and academic libraries and Iowa Work Centers.


Credo is an easy-to-use tool for research, homework and other reference needs. Gather background information on your topic from over one thousand full-text encyclopedias and subject handbooks, as well as 500,000+ images and audio files and over 1,000 videos.

General OneFile is an expansive general-interest database, providing access to the largest collection of full-text periodicals available. The robust collection of magazines and journals includes reference, newspaper, and audio content. With millions of articles available in both PDF and HTML full-text, General OneFile serves a wide audience of readers and researchers.
Kids InfoBits is content-rich, authoritative, easy-to-use. and features age-appropriate, reliable, and perfect for today's young learners. Its curriculum-related content covers a broad range of educational topics via a modern, graphical interface. The design helps kids explore the product and gain comfort with database searching. Kids InfoBits addresses the way kids learn and conduct research – and makes it fun!
ChiltonLibrary
provides access to repair, maintenance and service information on the most popular cars, trucks, vans and SUVs on the road today, as well as, many new vehicles. This continuously updated resource provides step-by-step repair procedures, troubleshooting guides, diagnostic trouble codes, photos, illustrations, diagrams, and multimedia (videos and animations) to simplify even the most complicated tasks.
The most complete language-learning system for independent learners.
Transparent language offers over 100 languages.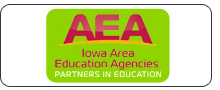 Iowa Area Education Agencies provide Iowa AEA Online, consisting of eight dynamic online resources, to all Iowa accredited schools. Students and staff have access at school and at home (Internet access required), 24 hours a day, seven days a week! These online resources support the content standards for school curriculum and student learning by bringing a wealth of information to teachers and students wherever they may be, with just the click of a mouse.
The Invention of Hugo Cabret
by Brian Selznick



School Library Journal :

Gr 3–6—Brian Selznick's atmospheric story (Scholastic, 2007) is set in Pari

...More
Criss Cross
by Lynne Rae Perkins



Horn Book Perkins's wonderfully contemplative and relaxed yet captivating novel, illustrated with her own...More
Rock Paper Scissors
by Alice Feeney



Publishers Weekly Londoners Amelia and Adam Wright, the couple at the center of this craftily plotted if flaw...More