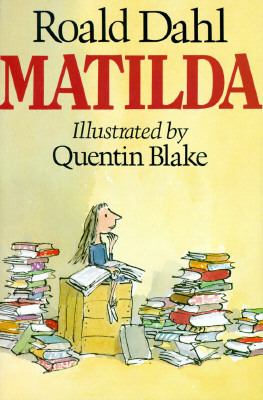 Matilda
by Roald Dahl

Publishers Weekly : Matilda is an extraordinarily gifted four-year-old whose parentsa crass, dishonest used-car dealer and a self-centered, blowsy bingo addictregard her as ``nothing more than a scab.'' Life with her beastly parents is bearable only because Matilda teaches herself to read, finds the public library, and discovers literature. Also, Matilda loves using her lively intelligence to perpetrate daring acts of revenge on her father. This pastime she further develops when she enrolls in Crunchem Hall Primary School, whose headmistress, Miss Trunchbull, is ``a fierce tyrannical monster . . . .'' Adults may cringe at Dahl's excesses in describing the cruel Miss Trunchbull, as well as his reliance on overextended characterization at the expense of plot development. Children, however, with their keenly developed sense of justice, will relish the absolutes of stupidity, greed, evil and might versus intelligence, courage and goodness. They also will sail happily through the contrived, implausible ending. Dahl's phenomenal popularity among children speaks for his breathless storytelling charms; his fans won't be disappointed by Matilda. Blake's droll pen-and-ink sketches extend the exaggerated humor. Ages 9-11.
Copyright 1988 Cahners Business Information, Inc. Distributed by Syndetic Solutions Inc. Terms

School Library Journal : Gr 4-6 Dahl's latest piece of madcap mayhem is a story filled with the elements that his fans cravesardonic humor, the evilest of villians, the most virtuous of heroines, and children who eventually defeat those big bad grown-ups. In this book, Matilda isn't just smart, she is ``extra-ordinary. . .sensitive and brilliant,'' reading Great Expectations as a four year old. Unfortunately, her TV-addict parents neither recognize nor appreciate their daughter's genius. Neglected Matilda finds mentors in librarian Mrs. Phelps and teacher Miss Honey, a woman as sweet as her name implies. Miss Honey, Matilda, and other students are tormented by the child-hating headmistress Trunchbull. Trunchbull has also cheated orphaned niece Miss Honey out of her rightful inheritance, leaving the teacher in extreme poverty. Having practiced revenge techniques on her father, Matilda now applies her untapped mental powers to rid the school of Trunchbull and restore Miss Honey's financial security. If the conclusion is a bit too rapid, the transitions between Matilda's home and school life a bit choppy, and the writing style not as even as in some of Dahl's earlier titles, young readers won't mind. Dahl has written another fun and funny book with a child's perspective on an adult world. As usual, Blake's comical sketches are the perfect complement to the satirical humor. This may not be a teacher's or principal's first choice as a classroom read-aloud, but children will be waiting in line to read it. Heide Piehler, Shorewood Public Lib . , Wis.
Copyright 1988 Cahners Business Information, Inc. Distributed by Syndetic Solutions Inc. Terms