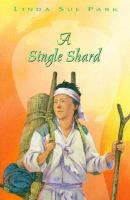 School Library Journal
Copyright © Reed Business Information, a division of Reed Elsevier Inc. All rights reserved.

Gr 5-8-In this tale of courage and devotion, a single shard from a celadon vase changes the life of a young boy and his master. In 12th-century Korea, the village of Ch'ulp'o is famous for its pottery. The orphan Tree-ear spends his days foraging for food for himself and Crane-man, a lame straw weaver who has cared for him for many years. Because of his wanderings, Tree-ear is familiar with all of the potters in the village, but he is especially drawn to Min. When he drops a piece Min has made, Tree-ear begins to work for him to pay off his debt, but stays on after the debt is paid because he longs to learn to create beautiful pots himself. Sent to the royal court to show the king's emissary some new pottery, Tree-ear makes a long journey filled with disaster and learns what it means to have true courage. This quiet story is rich in the details of life in Korea during this period. In addition it gives a full picture of the painstaking process needed to produce celadon pottery. However, what truly stands out are the characters: the grumpy perfectionist, Min; his kind wife; wise Crane-man; and most of all, Tree-ear, whose determination and lively intelligence result in good fortune. Like Park's Seesaw Girl (1999) and The Kite Fighters (2000, both Clarion), this book not only gives readers insight into an unfamiliar time and place, but it is also a great story.-Barbara Scotto, Michael Driscoll School, Brookline, MA Copyright 2001 Cahners Business Information.
---
Publishers Weekly
Copyright © Reed Business Information, a division of Reed Elsevier Inc. All rights reserved.

Park (Seesaw Girl) molds a moving tribute to perseverance and creativity in this finely etched novel set in mid- to late 12th-century Korea. In Ch'ul'po, a potter's village, Crane-man (so called because of one shriveled leg) raises 10-year-old orphan Tree Ear (named for a mushroom that grows "without benefit of "parent-seed"). Though the pair reside under a bridge, surviving on cast-off rubbish and fallen grains of rice, they believe "stealing and begging... made a man no better than a dog." From afar, Tree Ear admires the work of the potters until he accidentally destroys a piece by Min, the most talented of the town's craftsmen, and pays his debt in servitude for nine days. Park convincingly conveys how a community of artists works (chopping wood for a communal kiln, cutting clay to be thrown, etc.) and effectively builds the relationships between characters through their actions (e.g., Tree Ear hides half his lunch each day for Crane-man, and Min's soft-hearted wife surreptitiously fills the bowl). She charts Tree Ear's transformation from apprentice to artist and portrays his selflessness during a pilgrimage to Songdo to show Min's work to the royal court he faithfully continues even after robbers shatter the work and he has only a single shard to show. Readers will not soon forget these characters or their sacrifices. Ages 10-14. (Mar.) Copyright 2001 Cahners Business Information.
---
Book list
From Booklist, Copyright © American Library Association. Used with permission.

Gr. 4-8. When the polite greeting in a society is "Have you eaten well today?' one may guess that subsistence is of prime concern. Surely no one in this twelfth-century Korean village is more accustomed to hunger than the orphan boy Tree-ear and his guardian Crane-man who is lame. They sleep under a bridge in summer and in a pit in winter, eating what they can forage in the woods or garbage piles. At the age of 12, Tree-ear becomes an assistant to the potter Min. A hard taskmaster to himself and the boy, Min is the maker of the finest celadon ware in Ch'ul'po, a village known for its pottery. When Min entrusts two precious pots to Tree-ear to deliver to Songdo, the boy must make his way across miles of unknown territory, relying on his courage and wits to prove himself worthy of Min's trust. This quiet, but involving, story draws readers into a very different time and place. Though the society has its own conventions, the hearts and minds and stomachs of the characters are not so far removed from those of people today. Readers will feel the hunger and cold that Tree-ear experiences, as well as his shame, fear, gratitude, and love. A well-crafted novel with an unusual setting. --Carolyn Phelan