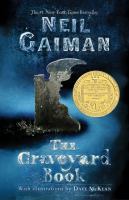 Library Journal
Copyright © Reed Business Information, a division of Reed Elsevier Inc. All rights reserved.

A baby survives the killing of his family by a mysterious assassin. He crawls to a nearby graveyard and is adopted by the assortment of spooks who occupy the place, soon to include his own recently murdered parents. There he is christened with a new name: Nobody, or Bod for short. Under the watchful tutelage of the dead, Bod learns reading, writing, history, and a few other useful skills-haunting and "disapparating" [disappearing from a location and reappearing in another]. Why It Is a Best: An elegant combination of Gaiman's masterly storytelling and McKean's lovely drawings, this book also works as a series of independent but connected short stories set two years apart, following Bod from age two to 16. Why It Is for Us: In interviews, Gaiman has said that this book took him years to write, and it was worth the wait. Imagine Kipling's The Jungle Book set among a forest of graves. A complete recording of Gaiman reading the book is available on his web site; see also LJ's video with the author from BEA 2008.-Angelina Benedetti, King Cty. Lib. Syst., WA Copyright 2008 Reed Business Information.
---
Publishers Weekly
Copyright © Reed Business Information, a division of Reed Elsevier Inc. All rights reserved.

A lavish middle-grade novel, Gaiman's first since Coraline, this gothic fantasy almost lives up to its extravagant advance billing. The opening is enthralling: "There was a hand in the darkness, and it held a knife." Evading the murderer who kills the rest of his family, a child roughly 18 months old climbs out of his crib, bumps his bottom down a steep stairway, walks out the open door and crosses the street into the cemetery opposite, where ghosts take him in. What mystery/horror/suspense reader could stop here, especially with Gaiman's talent for storytelling? The author riffs on the Jungle Book, folklore, nursery rhymes and history; he tosses in werewolves and hints at vampires--and he makes these figures seem like metaphors for transitions in childhood and youth. As the boy, called Nobody or Bod, grows up, the killer still stalking him, there are slack moments and some repetition--not enough to spoil a reader's pleasure, but noticeable all the same. When the chilling moments do come, they are as genuinely frightening as only Gaiman can make them, and redeem any shortcomings. Ages 10-up. (Oct.) Copyright 2008 Reed Business Information.