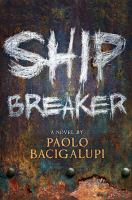 Publishers Weekly
(c) Copyright PWxyz, LLC. All rights reserved

SF novelist Bacigalupi (The Windup Girl) makes a stellar YA debut with this futuristic tale of class imbalance on the Gulf Coast. Teenage Nailer scavenges ships with his crewmates, eking out a poverty-filled existence while avoiding dangers that range from giant "city killer" hurricanes to his vicious, drug-addicted father. When a storm strands a beautiful shipping heiress on the beach (earning her the nickname "Lucky Girl"), Nailer manages both to infuriate members of his camp (including his father) and to become embroiled in upper-class trade disputes that he barely comprehends. As Nailer and Lucky Girl escape toward the drowned ruins of New Orleans, they witness rampant class disparity on individual and international levels (tribes whose lands were flooded have taken to the seas as pirates, attacking multinational shipping firms). Bacigalupi's cast is ethnically and morally diverse, and the book's message never overshadows the storytelling, action-packed pacing, or intricate world-building. At its core, the novel is an exploration of Nailer's discovery of the nature of the world around him and his ability to transcend that world's expectations. Ages 12-up. (May) Copyright 2010 Reed Business Information.
---
School Library Journal
(c) Copyright 2010. Library Journals LLC, a wholly owned subsidiary of Media Source, Inc. No redistribution permitted.

Gr 7 Up-A fast-paced postapocalyptic adventure set on the American Gulf Coast. Nailer works light crew; his dirty, dangerous job is to crawl deep into the wrecks of the ancient oil tankers that line the beach, scavenging copper wire and turning it over to his crew boss. After a brutal hurricane passes over, Nailer and his friend Pima stumble upon the wreck of a luxurious clipper ship. It's filled with valuable goods-a "Lucky Strike" that could make them rich, if only they can find a safe way to cash it in. Amid the wreckage, a girl barely clings to life. If they help her, she tells them, she can show them a world of privilege that they have never known. But can they trust her? And if so, can they keep the girl safe from Nailer's drug-addicted father? Exciting and sometimes violent, this book will appeal to older fans of Scott Westerfeld's "Uglies" series (S & S) and similar action-oriented science fiction.-Hayden Bass, Seattle Public Library, WA (c) Copyright 2010. Library Journals LLC, a wholly owned subsidiary of Media Source, Inc. No redistribution permitted.
---
Book list
From Booklist, Copyright © American Library Association. Used with permission.

*Starred Review* This YA debut by Bacigalupi, a rising star in adult science fiction, presents a dystopian future like so many YA sf novels. What is uncommon, though, is that although Bacigalupi's future earth is brilliantly imagined and its genesis anchored in contemporary issues, it is secondary to the memorable characters. In a world in which society has stratified, fossil fuels have been consumed, and the seas have risen and drowned coastal cities, Nailer, 17, scavenges beached tankers for scrap metals on the Gulf Coast. Every day, he tries to make quota and avoid his violent, drug-addicted father. After he discovers a modern clipper ship washed up on the beach, Nailer thinks his fortune is made, but then he discovers a survivor trapped in the wreckage the swank daughter of a shipping-company owner. Should he slit the girl's throat and sell her for parts or take a chance and help her? Clearly respecting his audience, Bacigalupi skillfully integrates his world building into the compelling narrative, threading the backstory into the pulsing action. The characters are layered and complex, and their almost unthinkable actions and choices seem totally credible. Vivid, brutal, and thematically rich, this captivating title is sure to win teen fans for the award-winning Bacigalupi.--Rutan, Lynn Copyright 2010 Booklist