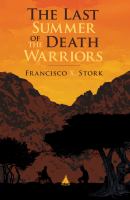 Book list
From Booklist, Copyright © American Library Association. Used with permission.

*Starred Review* Though the police say that his sister, Rosa, died of natural causes, 17-year-old Pancho Sanchez is convinced she was murdered, and he is looking to exact revenge. With no surviving family (his mother died when he was five, and his father only three months before Rosa), Pancho is placed in an orphanage in Las Cruces, where he meets D.Q., a boy who is dying from a rare form of brain cancer. D.Q. is not just determined to find a cure, he's also equally set on training Pancho to become what he calls a Death Warrior. Together, the unlikely companions embark on a quest to Albuquerque (Stork acknowledges echoes of Don Quixote here), and though they travel for their own reasons, once arrived, each will have to come to terms with what it might actually mean to be a Death Warrior. Stork (Marcelo in the Real World, 2008) has written another ambitious portrait of a complex teen, one that investigates the large considerations of life and death, love and hate, and faith and doubt. Though the writing occasionally tends toward the didactic, this novel, in the way of the best literary fiction, is an invitation to careful reading that rewards serious analysis and discussion. Thoughtful readers will be delighted by both the challenge and Stork's respect for their abilities.--Cart, Michael Copyright 2010 Booklist
---
Publishers Weekly
(c) Copyright PWxyz, LLC. All rights reserved

Characters that are just as fully formed and memorable as in Stork's Marcelo in the Real World embody this openhearted, sapient novel about finding authentic faith and choosing higher love. Seventeen-year-old Pancho Sanchez is sent to a Catholic orphanage after his father and sister die in the span of a few months. Though the cause of his sister's death is technically "undetermined," Pancho plans to kill the man he believes responsible ("How strange that a feeling once so foreign to him now gripped him with such persistence. He could not imagine living without avenging his sister's death"). When D.Q., a fellow resident dying from brain cancer, asks Pancho to accompany him to Albuquerque for experimental treatments, Pancho agrees-he'll get paid and it's where his sister's killer lives. D.Q. is deeply philosophical, composing a "Death Warrior" manifesto about living purposefully; through him, Pancho gradually opens to a world that he previously approached like a punching bag. Stork weaves racial and familial tension, tentative romances, and themes of responsibility and belief through the story, as the boys unite over the need to determine the course of their lives. Ages 14-up. (Mar.) Copyright 2010 Reed Business Information.
---
School Library Journal
(c) Copyright 2010. Library Journals LLC, a wholly owned subsidiary of Media Source, Inc. No redistribution permitted.

Gr 8 Up-Orphaned Pancho's 20-year-old mentally disabled sister is found dead in a New Mexico motel room. He meets D.Q., dying of a rare cancer, at a home for boys. D.Q.'s mother, Helen, forces him to undergo experimental chemotherapy, despite the gruesome side effects. Pancho cares for D.Q. during his stay at a Ronald McDonald-type residence. The one bright spot is Marisol, who works there. D.Q. knows that Pancho plans to find and destroy Rosa's killer. He tries to teach his new friend the way of the Death Warrior: only when you love do you truly live. Though Pancho plots the murder methodically, his plan is never believable. This derails the novel considerably and cancels any mystery that might have quickened the pace of the story. However, the New Mexico landscape is vivid and the author explores Anglo/Mexican relations subtly. Stork's characterizations are solid, from D.Q.'s probing intensity to Pancho's silent rage. Female characters are vivid as well, from Helen's passive aggression to Marisol, who displays a soulful intelligence. The narrative is dialogue heavy, but even philosophical conversations between steely Pancho and effusive D.Q. are natural, and often funny.-Johanna Lewis, New York Public Library Copyright 2010 Reed Business Information.