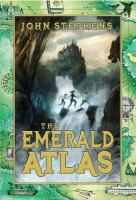 Book list
From Booklist, Copyright © American Library Association. Used with permission.

Following their parents' disappearance, 14-year old Kate and her younger siblings, Emma and Michael, have grown up in a series of orphanages. After moving to the dismal town of Cambridge Falls, the trio discovers a mysterious book. When studious Michael tucks a historic photo into the book, the children are transported back to an earlier time in which the town is held captive by an evil witch. Prophecies, wizards, hidden treasures, an ancient evil, and tantrum-throwing dwarves all make an appearance as Stephens works in a multitude of fantasy tropes. The quest to save the town and its children is fast-paced and engaging, with plenty of action, humor, and secrets propelling the plot. The dialogue occasionally has a choppy flow, but the humor and sibling bickering are right on target. Themes of family and responsibility, while emphasized somewhat purposefully, will easily resonate with young readers. The start of a new series, this satisfying tale wraps up in an intriguing conclusion that dangles unresolved threads for future adventures. Prepare for heavy demand.--Rutan, Lynn Copyright 2010 Booklist
---
School Library Journal
(c) Copyright 2010. Library Journals LLC, a wholly owned subsidiary of Media Source, Inc. No redistribution permitted.

Gr 4-8-Kate, 14, 12-year-old Michael, and 11-year-old Emma have lived in 12 different orphanages during the decade since their parents' mysterious disappearance. Kate tries to care for her brother and sister as she promised her mother, but this gets harder when they are sent to a new orphanage directed by Dr. Stanislaus Pym and find that they are the only children in his remote mansion. When they explore the home, they discover a magical door that reveals a hidden study, where they find a magic book that allows them to travel through time. The action escalates as the girls try to rescue Michael, who is stranded in the past, and develops after the children learn the history of the Atlas and its connection to their lives. As they try to find the book in the past, they meet brash and humorous dwarves, a powerful warrior, and a younger Dr. Pym, as well as an evil witch who is also seeking the Atlas. Unfolding magic and secrets deepen the story and build excitement as it reaches its complex and time-bending climax. The siblings have a realistic and appealing relationship, including rivalry and bickering that hides their underlying deep loyalty to one another. Echoes of other popular fantasy series, from "Harry Potter" to the "Narnia" books, are easily found, but debut author Stephens has created a new and appealing read that will leave readers looking forward to the next volumes in this projected trilogy.-Beth L. Meister, Milwaukee Jewish Day School, WI (c) Copyright 2011. Library Journals LLC, a wholly owned subsidiary of Media Source, Inc. No redistribution permitted.
---
Publishers Weekly
(c) Copyright PWxyz, LLC. All rights reserved

This promising first volume in debut author Stephens's Books of Beginning trilogy concerns siblings Kate, Michael, and Emma, who, when very young, were taken from their parents to protect them from unspecified forces of darkness. They have since spent 10 years in a series of unpleasant orphanages; the last of these-which, oddly enough, houses no children but themselves-is run by the eccentric Dr. Pym. While exploring their palatial yet decrepit new home tucked away in the Adirondacks, the children discover a magical green book, which transports them into the recent past. There they do battle with a beautiful witch who has terrorized and enslaved the local people in her unsuccessful search for the very book the children possess. Adventures follow, featuring murderous zombielike Screechers, time travel paradoxes, and multiple revelations about Dr. Pym. If Stephens's characterizations sometimes dip into cliche (grumpy, Scottish-ish dwarves; noble/heroic natives; an effete evil assistant), few will mind. This fast-paced, fully imagined fantasy is by turns frightening and funny, and the siblings are well-crafted and empathetic heroes. Highly enjoyable, it should find many readers. Ages 8-12. (Apr.) (c) Copyright PWxyz, LLC. All rights reserved.