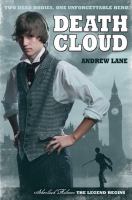 Publishers Weekly
(c) Copyright PWxyz, LLC. All rights reserved

Lane (The Bond Files, for adults) doesn't quite hit the mark in this British novel (authorized by the estate of Arthur Conan Doyle) that launches the Sherlock Holmes: The Legend Begins series, about the detective's life as a teenager. Staying with his aunt and uncle while on his school's break, Sherlock has little to entertain or enlighten himself besides his American tutor, Amyus Crowe. When a runaway named Matthew witnesses a bizarre murder and Sherlock discovers another dead body in the woods, the teens seek out the truth. On their adventures, they encounter a mysteriously evil housekeeper, beekeepers, and a ludicrously crippled criminal mastermind. Younger readers will appreciate the constant action and danger, but those already familiar with Holmes may find it hard to reconcile Lane's portrayal of an uncertain if perceptive teenager with the trademark inscrutability of the man he will become. (That said, early references to beekeeping and Sherlock's future drug addiction are nice touches, and Lane clearly did his research.) However, the inanity of the over-the-top villain (and his plan) undercuts the thrill of the adventure. Ages 12-up. (Feb.) (c) Copyright PWxyz, LLC. All rights reserved.
---
Book list
From Booklist, Copyright © American Library Association. Used with permission.

Before he was the detective whose steel-trap mind made him the curse of criminals, Sherlock Holmes was a teenager, brushing up on his powers of deduction and becoming the curse of one very nasty criminal indeed. This series introduces a 14-year-old Sherlock who's been left at his uncle's estate during the holidays. A new friend, a clever tutor, and the tutor's pretty daughter aren't enough to keep Sherlock out of trouble (well, actually, they're part of the trouble) when a mysterious cloud and several unfortunate deaths draw him into a malevolent plotter's web. This British import (the first teen series to be granted official endorsement from Sir Arthur Conan Doyle's literary estate) has punch some literal and purpose. The story sags a bit in the middle, but the rousing, almost fantastical conclusion will set readers up for the next installment. Clever packaging gets optimum appeal for a book that can't count on all kids knowing the esteemed detective. The young Sherlock on the cover looks like a waistcoat-clad Justin Bieber.--Cooper, Ilene Copyright 2010 Booklist
---
School Library Journal
(c) Copyright 2010. Library Journals LLC, a wholly owned subsidiary of Media Source, Inc. No redistribution permitted.

Gr 6-9-Sherlock Holmes, 14, is expecting a quiet summer, relaxing with his family after a difficult term at school. However, political upheaval in India, his mother's illness, and brother Mycroft's position in the Foreign Office result in Sherlock being sent to distant relatives instead. Adapting to life at Holmes Manor in Farnham, he makes friends with a village ruffian and is soon given an American tutor to keep him out of mischief. When Sherlock and Amyus Crowe, the tutor, discover a body covered with mysterious swellings, they are thrown into a conspiracy of chemicals, knives, and money. Over the course of his investigation, Sherlock is kidnapped twice by pale and crippled Baron Maupertuis, once after a brutal boxing match, and the second time while with beautiful Virginia Crowe, daughter of Amyus. In their final confrontation, Sherlock and Virginia discover the Baron's plot to bring down the whole of the British Empire. Lane successfully blends the traditional Holmesian confidence with the teen's awkward self-consciousness. The vulnerability of the character is well illustrated through his relationship with Mycroft, as well as his friendship with Matty, the young orphaned longboat operator. While the crush on Virginia seems a bit shoehorned in, her character does provide some needed humor. Occasionally the action overwhelms the investigative components, but the narrative still flows smoothly. A menacing villain and an unexpected twist make for a thoroughly engaging read that will keep readers turning pages. Now, it's just a matter of waiting for the next tale.-Joel Shoemaker, formerly at South East Junior High School, Iowa City, IA (c) Copyright 2011. Library Journals LLC, a wholly owned subsidiary of Media Source, Inc. No redistribution permitted.