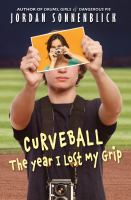 Publishers Weekly
(c) Copyright PWxyz, LLC. All rights reserved

The start of Peter's freshman year is marked by twin tragedies: a serious arm injury during a baseball game means his pitching days are over, and his beloved grandfather, a photographer who taught Peter how to shoot, is losing his memory. Peter tries to keep the extent of both problems hidden-the first from his best friend and fellow pitcher, AJ, and the second from his mother, per his grandfather's request. But his secrets prove harder and harder to keep, especially when his new girlfriend and fellow photography enthusiast, Angelika, gives him an ultimatum, and his deteriorating grandfather ends up in an emergency situation. Sonnenblick's story may be straightforward, but Peter's natural and self-effacing narrative voice makes it sing. The novel is populated with kind, vulnerable characters who care about each other (mellow San from Zen and the Art of Faking It even makes an appearance), and the thoroughly enjoyable mix of sports, art, family drama, and budding romance will have readers invested in Peter's struggles to accept his new world and appreciate what he has. Ages 12-up. (Mar.) (c) Copyright PWxyz, LLC. All rights reserved.
---
Book list
From Booklist, Copyright © American Library Association. Used with permission.

*Starred Review* Ignoring the shooting elbow pains that have plagued him all summer, star pitcher Pete Friedman throws everything he's got into one final fastball to close out the league championship in the summer before freshman year. He doesn't get the out, and worse, he has wrecked his arm and whatever identity he had to look forward to as a high-school athlete. But in true closed-door-opened-window fashion, Pete's camera skills (inherited from his grandpa) offer the chance to stay close to sports as a sideline photographer and to get close to the cute girl in his photography class. But the real tension in his life comes from the fact that the tack-sharp grandfather he has always looked up to is slipping from mildly forgetful into dangerous bouts of dementia that Pete's parents seem to want to ignore. Sonnenblick (After Ever After, 2010) again shows an adept ability to tackle big-deal life issues, treat them seriously and believably, and filter them into a high-spirited, even fun story. He also sprinkles in technical photography details that kids handy with F-stops and lens specs will dig, but won't leave others out in the cold. A bittersweet look at freezing moments in time, and how Alzheimer's can scour even the younger generations in a family.--Chipman, Ian Copyright 2010 Booklist
---
School Library Journal
(c) Copyright 2010. Library Journals LLC, a wholly owned subsidiary of Media Source, Inc. No redistribution permitted.

Gr 7-9-Sonnenblick adds to his growing list of distinguished YA novels with this tale of a youngster whose dreams of baseball glory are crushed when an injury ruins his pitching arm. Realizing that his baseball career is over, Peter Friedman, 13, turns to sports photography, in emulation of his beloved grandfather, who was a professional photographer. It soon becomes evident, however, that Grampa is slipping into senility. Peter feels that his parents are unwilling to accept this reality, and so he attempts to deal with his grandfather's growing impairment on his own, with near-catastrophic results. He also keeps the extent of his arm injury secret from his best friend, the popular and outgoing AJ, who continues to make plans for their mutual success on the diamond. With the help of wise and sassy Angelika, a fellow photographer, Peter confronts the evasions and equivocations he has used to avoid dealing with the difficult issues in his life. Peter's development flows naturally out of the action of the novel, and the lessons he learns seem like an integral part of the characters' interaction. The dialogue sparkles, and Peter's conversations with the randy, politically incorrect AJ are often laugh-out-loud funny. Another winner that can be confidently recommended to readers, athletes or not.-Richard Luzer, Fair Haven Union High School, VT (c) Copyright 2012. Library Journals LLC, a wholly owned subsidiary of Media Source, Inc. No redistribution permitted.