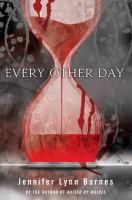 Publishers Weekly
(c) Copyright PWxyz, LLC. All rights reserved

Barnes (the Raised by Wolves books) delivers a gory urban fantasy that balances confident world-building, action, and strong character development. The sharp-tongued 16-year-old narrator, Kali D'Angelo, wields strange, superhuman powers, but only every other day, during which times she secretly goes out and slays various supernatural creatures. (In this world, such creatures were discovered by Charles Darwin and have long been known to human society.) On one of the days when she's merely human, Kali discovers that her uptight cheerleader classmate, Bethany, has the always-fatal mark of the chupacabra and contrives to transfer the mark to herself. The combination of Kali's powers and the supernatural creature is bad enough, but it's soon clear that there are rogue scientists and other dangers to both girls and a third classmate, the potentially psychic Skyler. The conspiracies and supernatural threats vie for time with lone-wolf Kali's attempts to deal with two potential friendships; all of the conflicts come to a head in an extended but gripping climax. Fans of adult-oriented urban fantasy should enjoy this as much as teens looking for a contemporary Buffy. Ages 12-up. (Dec.) (c) Copyright PWxyz, LLC. All rights reserved.
---
School Library Journal
(c) Copyright 2010. Library Journals LLC, a wholly owned subsidiary of Media Source, Inc. No redistribution permitted.

Gr 6 Up-Every other day Kali is a normal 16-year-old. On the alternate days, she is not sure what she is. She knows only that she has an irresistible urge to hunt and kill supernatural demons and hellhounds. When she spots a strange mark on Bethany's back, she knows that the girl has been marked for death. As Kali fights to save her, the two pair up with the endearing school pariah, Skylar, to unravel a Machiavellian scheme in which unknowing teens are being injected with chupacabra serum. Kali is a likable, compelling heroine. Her dual existence rings true to normal teen angst about getting along with parents, making friends, and surviving high school: "Even without my powers, I would gladly have faced down hellspawn over high school mean girls any day." Elements of the supernatural come across organically in Kali's modern, everyday world: Darwin's seminal work is The Demon's Descent and hellhounds are a government-protected endangered species. Barnes keeps readers engaged with a steady plaiting of suspense, action, and atmospheric description. Subplots build tension and prompt more questions: What does Bethany's dad's work in gene therapy have to do with her mother's emotional fragility? Should Kali trust Zev, the being she lured from Bethany's body into her own? Just how much does Kali's absentminded professor dad know about his daughter? A satisfying conclusion leaves enough room for a sequel.-Jennifer Prince, Buncombe County Public Library, NC (c) Copyright 2012. Library Journals LLC, a wholly owned subsidiary of Media Source, Inc. No redistribution permitted.
---
Book list
From Booklist, Copyright © American Library Association. Used with permission.

Paranormal gets a twist in this entertaining start to a new series about Kali, who alternates between being a normal 16-year-old one day and a vampirish demon hunter the next. It helps that her father is busy in his own work and doesn't notice her bloodied clothes or late-night absences, during which she tries to save her town from the threat of hellhounds, dragons, basilisks, and manticores. Kali is a worthy character to follow: sarcastic and self-sufficient, but also self-deprecating. After she saves a snobby cheerleader by transferring a deadly chupacabra to her own body, she finds herself linked to and caring for a fellow demon hunter, Zev, who communicates with her as a voice in her head. The cheerleader wants to return the favor and save Kali next, leading to an unlikely partnership that turns to friendship. Add evil villains, a mystery surrounding Kali's parentage, a friend who claims to be a little psychic, and some plot twists, and this will leave readers eagerly waiting for the sequel.--Dobrez, Cindy Copyright 2010 Booklist