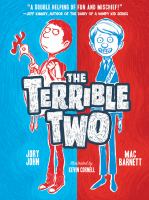 School Library Journal
(c) Copyright Library Journals LLC, a wholly owned subsidiary of Media Source, Inc. No redistribution permitted.

Gr 4-6-When you move to a new school, you get to decide who you want to be: front-row kid, kid with cool shoes, or smart kid. Miles Murphy has moved to a new town and a new school, but he doesn't want to reinvent himself. He wants to be who he has always been; a prankster. The problem is, that role has already been taken by a troublemaker who is even better than Miles, Niles Sparks, masquerading as a do-gooder. Niles respects Miles' skills and suggests they join forces as The Terrible Two. Initially disinterested, Miles ultimately realizes he is no match for Niles, and they work together to pull off the ultimate prank and develop a close friendship. Coauthors and friends Barnett and John have created a fast paced, laugh-out-loud novel sure to appeal to those who appreciate a good prank and have a sense of justice. The caricaturelike protagonists, particularly the childlike adult characters, add to the absurdity of the book, and the evolving relationship between the Miles and Niles is pure fun. Cornell's varied graphics perfectly capture the humorous tone and add their own comic appeal. This is a good candidate for reluctant readers and a natural next read for fans of Jeff Kinney's "Diary of a Wimpy Kid" series.-Juliet Morefield, Multnomah County Library, OR (c) Copyright 2014. Library Journals LLC, a wholly owned subsidiary of Media Source, Inc. No redistribution permitted.
---
Publishers Weekly
(c) Copyright PWxyz, LLC. All rights reserved

Two rival pranksters headline this boisterous series opener set in Yawnee Valley, "the cow capital of the United States, this side of the Mississippi, excluding a couple of towns that cheat." Barnett (the Brixton Brothers series) and John (All My Friends Are Dead) are in perfect comic harmony, filling their story with exaggerated archetypes (the overbearing principal, the do-gooder), pranks gone awry, and wisecracking banter. On his first day at Yawnee Valley Science and Letters Academy, master trickster Miles is impressed that someone has moved Principal Barkin's car to block the school entrance-and distressed that he wasn't the perpetrator. Determined to establish his prankster dominance, Miles masterminds a huge birthday party-presents required-for a fictitious peer, who (somehow) shows up to wow the crowd and abscond with the gifts. Eventually, Miles finally forms a partnership with his unlikely nemesis to create a "secret society founded on mutual admiration and the joy of pranking." Cornell's (The Chicken Squad) b&w cartoons layer on the laughs, especially when portraying the megalomaniacal Principal Barkin, and Barnett and John's deadpan writing lets Yawnee Valley's absurdity shine. Ages 8-12. Agent: Steven Malk, Writers House. (Jan.) © Copyright PWxyz, LLC. All rights reserved.