by Douglas Preston and Lincoln Child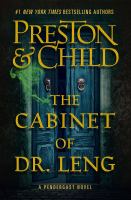 Kirkus
Copyright © Kirkus Reviews, used with permission.

Constance Greene, ageless protégé of FBI Special Agent Aloysius Pendergast, travels back to 1880s New York—the time and place of her childhood—to save the world from the evil Dr. Enoch Leng and prevent him from killing her two siblings. Taken off the meanest streets of New York by Leng when she was 9, Constance was given an experimental elixir by him that succeeded in dramatically slowing down her aging process. More than a century later, now under Pendergast's wing, she is only 20 in physical terms. After belatedly discovering that the essential ingredient of the elixir was taken from the spines of young women, including her older sister, she uses the time machine that appeared in Bloodless (2021) to return to old stomping grounds—where, bizarrely, she encounters her own 9-year-old self. Posing as an Eastern European aristocrat, she insinuates herself into New York society to get next to the falsely celebrated Leng—who has taken the elixir himself—with the aim of killing him. Meanwhile, desperate to protect her from harm—and prevent her from getting stuck in that alternative dimension—Pendergast has the one-use-only time machine retooled. In a largely unconnected plot, his Native American FBI colleague Armstrong Coldmoon investigates two murders connected to the theft of precious Lakota artifacts from a South Dakota reservation. Played as a straight mystery, this part of the novel is efficiently done, if not as much fun as the SF stuff, but it ultimately seems like a time-killing device for the authors. After more than 400 pages, they go the "To Be Continued" route, apologizing for the "inconclusive ending." Now they tell us. A mixed bag that leaves the reader hanging. Copyright © Kirkus Reviews, used with permission.