It's raining books at the library!
Upcoming Closings
Effective May 1, 2016
Butler Memorial Library
will be closed on Sundays
Effective May 28, 2016
Boydton Public Library
will be closed on Saturdays

E-Books Are Here!
The library's collection of e-Books and audiobooks is growing—thanks to OneClickdigital!
OneClickdigital is a downloading service featuring e-Books and professionally narrated audiobooks.
You can find the library's OneClickdigital collection by scrolling down near the bottom of this homepage and clicking on the link that reads: "CLICK HERE FOR ALL ONLINE DATABASES".
OneClickdigital is compatible with a variety of computers and mobile devices. Mobile apps are available for iPad®, iPhone®, Android™, and Kindle Fire™.
OneClickdigital is proud to offer free support for library patrons—Monday through Friday from 7:30 a.m. to 6:30 p.m. Contact the OneClickdigital support team directly at 1-877-77AUDIO or email them at support@oneclickdigital.com.
Boydton's "War Room"
The Boydton branch has a nook known as the "War Room." It has everything you need to research any war involving the US -- everything from Revolutionary War to the Conflicts in Iraq and Afghanistan. This is "the place" to research US military history.

Our e-book of the week....
The Scam: A Fox and O'Hare Novel
by Janet Evanovich
A fun story that involves money laundering and gambling as well as shoot-em-ups and lots of funny dialog.
http://mecklenburgva.oneclickdigital.com/#titles/9780345543189
New Mecklenburg County Public Library Sign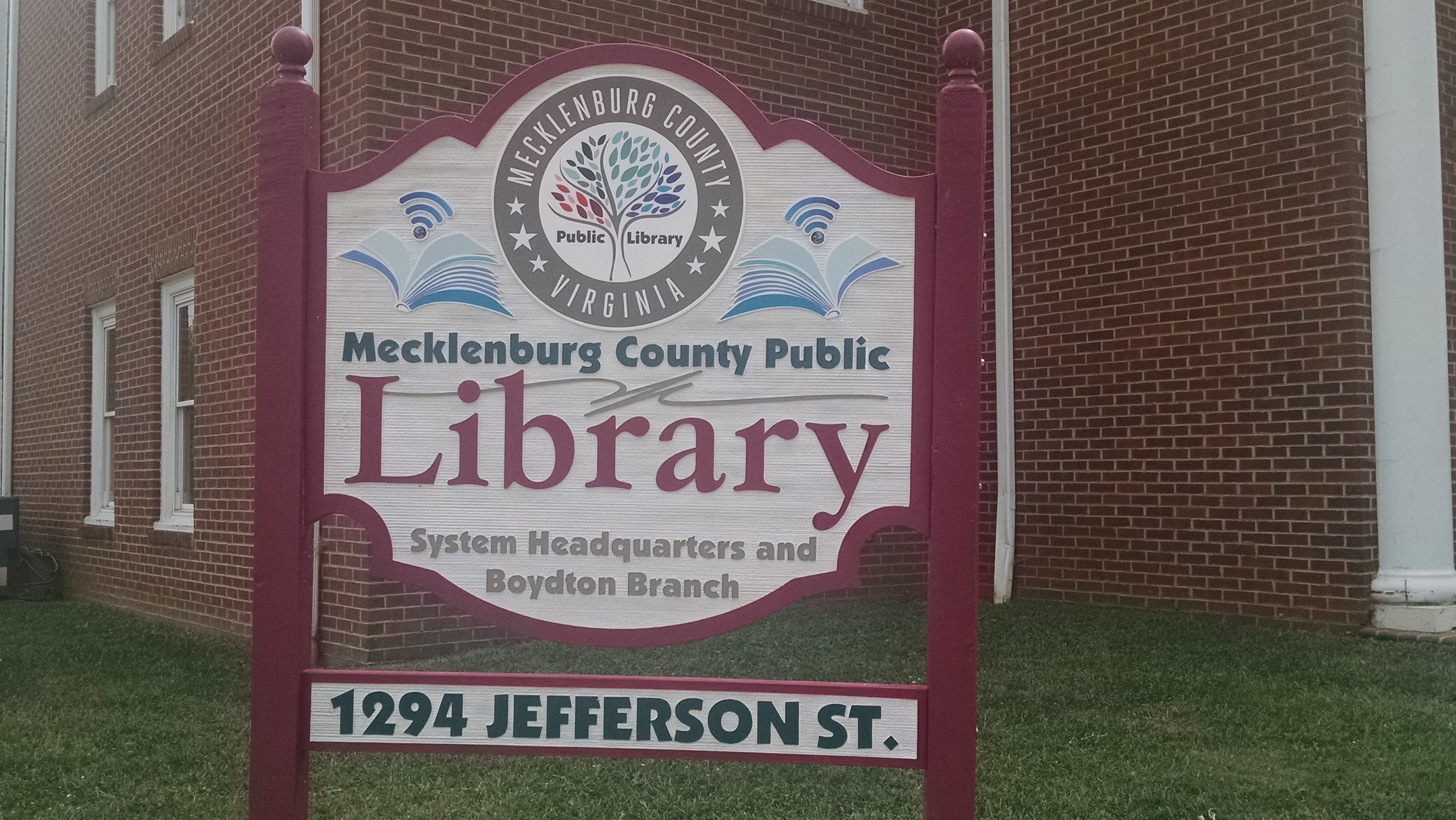 MCPL Mission Statement
The Mecklenburg County Public Library provides its communities with materials and services to help residents obtain information meeting their educational, vocational, cultural, personal, and recreational needs. Special emphasis is placed on stimulating children's interests as well as promoting all users' appreciation for reading and lifelong learning. The library functions as an essential part of the community.