Mecklenburg County Public Library Board of Trustees Meeting Notice
The Mecklenburg County Public Library Board of Trustees will meet at 2:00 pm on Wednesday, April 20, 2016 at the Boydton Public Library/Mecklenburg County Public Library Headquarters facility.
1294 Jefferson Street
Boydton, Virginia 23917
Meetings are open to the public.
For additional information, please contact Leigh Lambert at 434-738-6580.
The R. T. Arnold Library
is
CLOSED FOR RENOVATIONS

We plan to reopen no later than February 29th. We are sorry for any inconvenience.
During renovations, if you have any books/items to return, please use the "Book Return".
Books/items dropped in the Return will be processed daily.
Please feel free to call the library telephone number,
434-447-8162,
if you have any questions or need information.
Thank You.
Our E-Book of the Week is .....

By: Mary Higgins Clark
A thrilling novel about missing billions, a disgraced financier, and those determined to learn the truth at any cost…
As the sole assistant to a famous upscale interior designer, Lane Harmon, mother to five-year-old Katie, is accustomed to visiting opulent homes around the tri-state area. A born optimist, Lane finds the glimpse into these gilded worlds fascinating, and loves the reward of exceeding the expectations of their often-demanding owners. When she is called to assist in redecorating a modest townhouse in Bergen County, she knows the job is unusual. Then she learns the home belongs to the wife of a notorious and disgraced financier named Parker Bennett.
Parker Bennett dropped out of sight two years ago just before it was discovered that the $5 billion dollars in the fund he had been managing had vanished. Bennett had gone out on his sailboat in the Caribbean. Was it suicide or had he staged his disappearance? The scandal around his name has not died down. His clients and the federal government all want to trace the money and find Bennett if he is still alive.
Lane is surprised to find herself moved by Mrs. Bennett's calm dignity and apparently sincere belief in her husband's innocence. Gradually, Lane finds herself drawn to Eric, the Bennetts' son, who is similarly determined to prove that his father is not guilty. Lane doesn't know that the closer she gets to the Bennetts, the more she puts her life―and her daughter's life―in jeopardy.
E-Books Are Here!
The library's collection of e-Books and audiobooks is growing—thanks to OneClickdigital!
OneClickdigital is a downloading service featuring e-Books and professionally narrated audiobooks.
You can find the library's OneClickdigital collection by scrolling down near the bottom of this homepage and clicking on the link that reads: "CLICK HERE FOR ALL ONLINE DATABASES".
OneClickdigital is compatible with a variety of computers and mobile devices. Mobile apps are available for iPad®, iPhone®, Android™, and Kindle Fire™.
OneClickdigital is proud to offer free support for library patrons—Monday through Friday from 7:30 a.m. to 6:30 p.m. Contact the OneClickdigital support team directly at 1-877-77AUDIO or email them at support@oneclickdigital.com.
Boydton's "War Room"
The Boydton branch has a nook known as the "War Room." It has everything you need to research any war involving the US -- everything from Revolutionary War to the Conflicts in Iraq and Afghanistan. This is "the place" to research US military history.
Frontier Culture Museum "Soundtrack of America"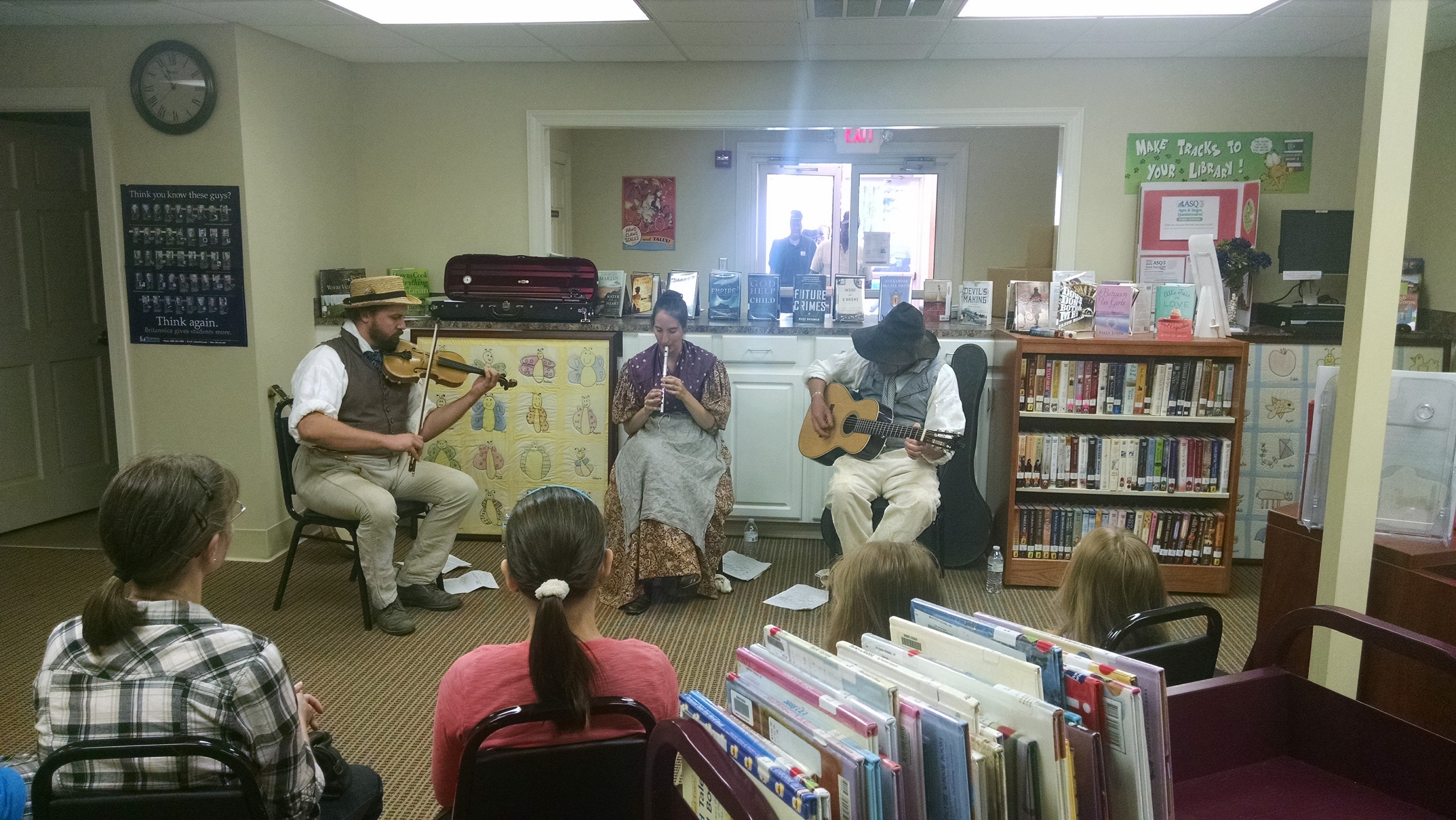 New Mecklenburg County Public Library Sign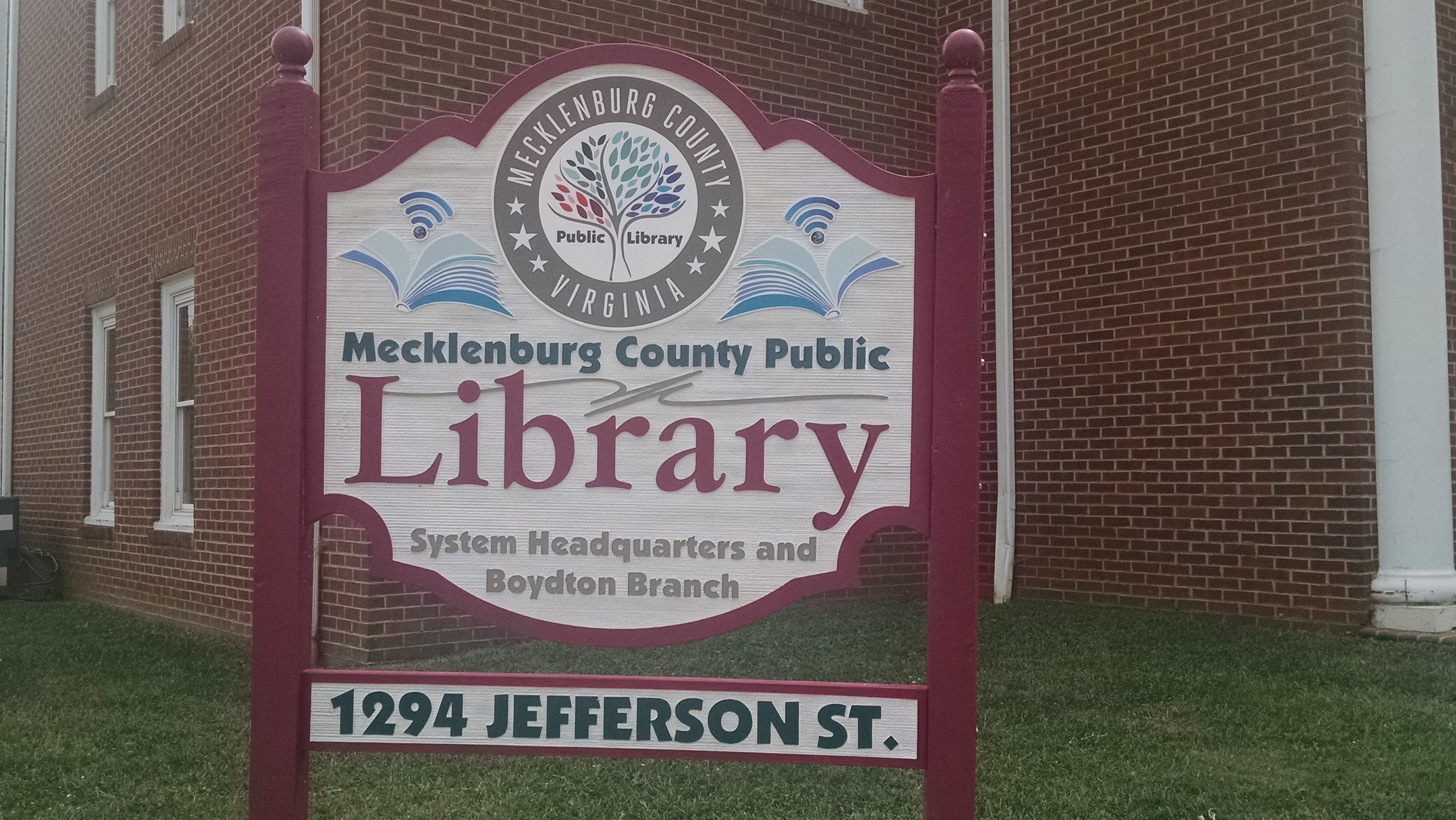 MCPL Mission Statement
The Mecklenburg County Public Library provides its communities with materials and services to help residents obtain information meeting their educational, vocational, cultural, personal, and recreational needs. Special emphasis is placed on stimulating children's interests as well as promoting all users' appreciation for reading and lifelong learning. The library functions as an essential part of the community.