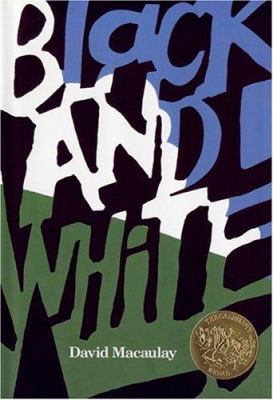 Black and White
by David Macaulay


Book list Gr. 2-6, younger for reading aloud. See Focus, p.1546.
From Booklist, Copyright © American Library Association. Used with permission.
Publishers Weekly At first glance, this is a collection of four unrelated stories, each occupying a quarter of every two-page spread, and each a slight enough tale to seem barely worth a book--a boy on a train, parents in a funny mood, a convict's escape and a late commuter train. The magic of Black and White comes not from each story, however, but from the mysterious interactions between them that creates a fifth story. Several motifs linking the tales are immediately apparent, such as trains--real and toy--and newspapers. A second or third reading reveals suggestions of the title theme: Holstein cows, prison uniform stripes. Eventually, the stories begin to merge into a surrealistic tale spanning several levels of reality, e.g.: Are characters in one story traveling on the toy train in another? Answers are never provided--this is not a mystery or puzzle book. Instead, Black and White challenges the reader to use text and pictures in unexpected ways. Although the novelty will wear off quickly for adults, no other writer for adults or children explores this unusual territory the way Macaulay does. All ages. (Apr.)
Copyright © Reed Business Information, a division of Reed Elsevier Inc. All rights reserved.