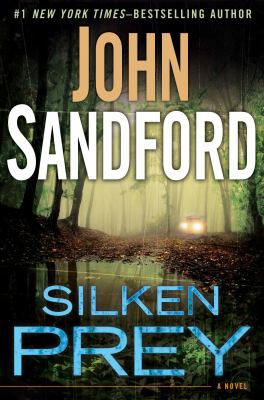 Silken Prey
by John Sandford


Publishers Weekly Governor Elmer Henderson hands Lucas Davenport a political hot potato in bestseller Sandford's intriguing 23rd thriller featuring the Minnesota Bureau of Criminal Apprehension agent (after 2012's Stolen Prey). Incumbent Republican Sen. Porter Smalls had a slight lead for reelection, until a campaign volunteer accidentally discovered child porn on Smalls's computer. Now Taryn Grant-a wealthy, ambitious, ruthless Democratic newcomer-might pull off an upset. Though Henderson is a Democrat, he believes Smalls has been framed, and tasks Davenport with quietly and quickly investigating. Up against two of Grant's "security" men, both tough ex-military operatives, and the election deadline, Davenport needs all his smarts plus help from fellow BCA agent Virgil Flowers (the star of his own series) and computer genius Kidd. Sandford expertly ratchets up the suspense and delivers some nifty surprises as Davenport deals with political nastiness and paybacks regardless of party affiliations. Agent: Esther Newberg, ICM. (May) (c) Copyright PWxyz, LLC. All rights reserved.
(c) Copyright PWxyz, LLC. All rights reserved
Book list *Starred Review* A tight race for a U.S. Senate seat is drawing to a close when Lucas Davenport gets a call. A volunteer aide to the Republican incumbent inadvertently has found a cache of kiddie porn on the candidate's personal computer. Given the consequences of the discovery, Davenport, the lead investigator for Minnesota's Bureau of Criminal Apprehension, is asked by the Democratic governor to handle a quick, discreet inquiry. Though in the opposing party, the governor has known the accused since grade school and is adamant that his friend is innocent. Inevitably, the story leaks and the Democratic candidate begins making up ground in the polls. Her name is Taryn Grant. She's in her mid-thirties, strikingly beautiful, and richer than God, and her ambition knows no limit. As the kiddie-porn scandal breaks, an amoral political operative disappears. When Davenport questions Grant about the scandal, he's taken aback by her vehement denial of any involvement. Is she guilty and attempting to intimidate him, or genuinely offended? Sandford's Davenport novels are always very good, and this is the best one in a long time. It's suspenseful, witty, and wise in the ways of modern politics. And the conclusion is darkly unforgettable. A superb thriller.--Lukowsky, Wes Copyright 2010 Booklist
From Booklist, Copyright © American Library Association. Used with permission.