Kids' Catalog
The fourteenth goldfish
by Jennifer L Holm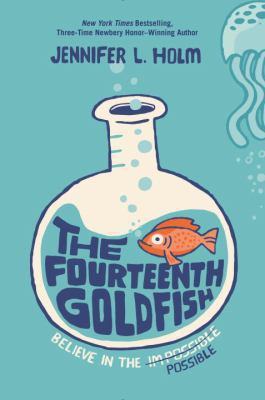 Publishers Weekly
(c) Copyright PWxyz, LLC. All rights reserved
9780375870644
Middle school doesn't start smoothly for 11-year-old Ellie, whose best friend finds her passion (volleyball) and new teammates to eat lunch with, while Ellie flounders, uninterested in sports or her parents' avocation, theater. A startling addition to the household helps Ellie get her groove back when Grandpa Melvin, a scientist, moves in after engineering a cure for aging (the regenerative properties of jellyfish are involved) and transforming himself into a teenage boy. Though Melvin dresses and acts like the crotchety old man he was, he and Ellie bond over spirited discussions about Jonas Salk, Robert Oppenheimer, the possibilities of science, and the moral questions scientific advances can raise. Though the subject matter has a lot of intellectual heft, the writing has Holm's ever-present light touch. The small cast, which refreshingly includes divorced parents who treat each other respectfully, is so well realized that the farfetched aspects of the plot seem almost plausible. This is top-notch middle-grade fiction with a meaty dilemma, humor, and an ending that leaves room for the possibility of a sequel. Ages 8-12. Agent: Jill Grinberg, Grinberg Literary Management. (Aug.) (c) Copyright PWxyz, LLC. All rights reserved.
School Library Journal
(c) Copyright Library Journals LLC, a wholly owned subsidiary of Media Source, Inc. No redistribution permitted.
9780375870644
Gr 5-7-Eleven-year-old Ellie Cruz's life changes dramatically when her mother brings a teenage boy home one night and she learns it is her estranged grandfather. Melvin is a scientist who has figured out how to reverse aging and is now 13 again. Tensions are high between Melvin and his adult daughter, Ellie's mother, but Ellie feels like she now has the opportunity to really get to know her grandfather. Her interest in science blossoms, and she is eager to help Melvin retrieve the jellyfish specimen he used in his experiments so he can publish his discovery. Fascinated, Ellie learns about the work of Jonas Salk, Robert Oppenheimer, and Marie Curie. But as she learns more, she realizes that scientific discoveries often have unforeseen consequences. Readers are carried along with Ellie as she navigates old and new friendships in her first year in middle school with the added complication of her teenage grandfather at the same school. Short chapters keep the story moving at an engaging pace, and the interactions among the characters will easily hold readers' interest. Ellie's growing relationship with her grandfather helps her make discoveries about herself. Melvin, who begins as unapologetically single-minded in his determination to continue his work, also learns from Ellie. With humor and heart, Holm has crafted a story about life, family, and finding one's passion that will appeal to readers willing to imagine the possible.-Amanda Raklovits, Champaign Public Library, IL (c) Copyright 2014. Library Journals LLC, a wholly owned subsidiary of Media Source, Inc. No redistribution permitted.
Book list
From Booklist, Copyright © American Library Association. Used with permission.
9780375870644
*Starred Review* It's a little strange for 11-year-old Ellie when her mother brings home a boy who looks to be about 13 but dresses like Ellie's grandfather. But it's a shocker when Ellie realizes that the kid is her grandfather, a scientist who has suddenly succeeded in reversing the aging process. Now sleeping in their den and newly enrolled in Ellie's middle school, Grandpa connives with her to sneak into his old lab and swipe what he needs to continue his research. Meanwhile, Ellie comes to admire the grandfather she has barely known, listens to his stories of famous scientists, and discovers her own passion for science. Written in a clean, crisp style, with lively dialogue and wit, this highly accessible novel will find a ready audience. The idea of an adult in a young teen's body may not be new, but Ellie's first-person narrative makes good use of the situation's comic potential, particularly in the fractious, role-reversed relationship between Mom and Grandpa. Along with the comedy, the story has a reflective side, too, as Ellie thinks through issues such as death and immortality and confronts Grandpa with the social consequences of his research. A great choice for book groups and class discussions as well as individual reading. HIGH-DEMAND BACKSTORY: A three-time Newbery Honor-winning author, whose books have also ranked on the New York Times best-seller lists, Holm has a formidably sized fan base waiting for her next release.--Phelan, Carolyn Copyright 2010 Booklist