Kids' Catalog
Calico Joe
by John Grisham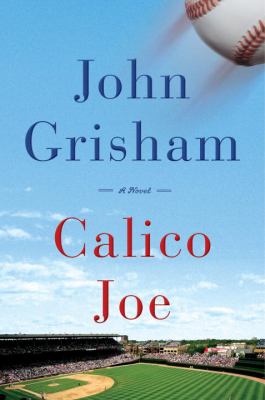 Library Journal
(c) Copyright Library Journals LLC, a wholly owned subsidiary of Media Source, Inc. No redistribution permitted.
9780385536073
Growing up in Arkansas, Grisham dreamed of being a professional baseball player. Now, in his 28th novel, this superb storyteller takes his turn at bat in this memorable story of forgiveness and redemption. In the 1973 season, Warren Tracey, an over-the-hill pitcher from the New York Mets, tangles with Joe Castle, a hot new Chicago Cubs rookie from Calico Rock, AR-halting both their careers. Before their confrontation, Joe had demonstrated his stunning skills and earned the admiration of fans nationwide, including Warren's young son. As a little leaguer, Paul Tracey had idolized Joe and tolerated his own philandering father. Thirty years later, Paul challenges Warren, now cancer-ridden, to seek Joe's forgiveness. Verdict Incorporating the jargon and depicting the rituals of America's favorite pastime, Grisham has written a classic story filled with human emotion. General readers, together with Grisham fans, will appreciate this touching tale.-Jerry P. Miller., Cambridge, MA (c) Copyright 2012. Library Journals LLC, a wholly owned subsidiary of Media Source, Inc. No redistribution permitted.
Publishers Weekly
(c) Copyright PWxyz, LLC. All rights reserved
9780449011003
In his latest, Grisham takes another break from blockbuster legal suspense to explore the world of athletics. Decades after the fact, Paul Tracey looks back on the fateful events of the summer of 1973 involving his drunken and abusive father, Warren-a pitcher for the New York Mets-and a red-hot Chicago Cubs rookie nicknamed Calico Joe. Narrator Eric Singer portrays both Joe and Warren-the former innocent and earnest, the latter a bully-with energy and passion. The narrator lends Arkansan Joe an accent and cadence that are equal parts aw-sucks nonchalance and deer-in-the headlights wonder. In his portrayal of Warren, Singer effectively channels the character's vitriol both on and off the field; the scenes involving Warren's abusive coaching sessions with young Paul pack a particularly powerful emotional punch. Singer's rendering of the labored speech of an aging Joe in the later portion of the book may seem heavy-handed in some respects, but remains compelling nonetheless. A Doubleday hardcover. (Apr.) (c) Copyright PWxyz, LLC. All rights reserved.
Kirkus
Copyright © Kirkus Reviews, used with permission.
Only one player in Major League Baseball history has been hit and killed by a pitch, but bean ballsballs thrown near the headhave ended careers. Grisham's (The Litigators, 2011, etc.) novel imagines the act and its consequences. It's 1973, another magic baseball season. The National League East has six teams contending, among them the traditionally hapless Chicago Cubs, soon jinxed once again when its first baseman is injured. Now the Cubs must add a minor leaguer to the roster. That's Joe Castle, a kid from Calico Rock, Ark. Calico Joe immediately begins to set rookie records, leading the Cubs to the top of the standings. Watching from New York is Paul Tracey, a baseball fan as avid as only an 11-year-old boy can be. In fact, Paul's father pitches for the New York Mets, but Warren Tracey, "accustomed to getting whatever he wanted," is a jerk. Warren is a journeyman pitcher, solid in an occasional game, kicked around from one team to another, never an All Star. Warren also abuses his family, drinks and chases women. The novel unfolds from Paul's adult perspective, with flashbacks. The crucial plot point comes in a flashback when Calico Joe, putting up "mind-boggling" numbers over 38 games, meets Warren in Shea Stadium and hits a home run. During his next at bat, as part of some unwritten "code," Warren goes head-hunting and beans the young player. Calico Joe's career is over, and he drifts home to Calico Rock, partially paralyzed, speech impeded, to work as a groundskeeper rather than earning a plaque in baseball's Hall of Fame. Decades later, long estranged from his father, Paul learns that Warren is dying of pancreatic cancer, and he decides to force his father to confront what he did to Joe Castle. Interestingly, the novel's most fully formed character is Warren, and while the narrative and settings are solid, the story drifts toward a somewhat unsatisfying, perhaps too easy, conclusion. A reconciliation story, Hallmark style.]] Copyright Kirkus Reviews, used with permission.
Book list
From Booklist, Copyright © American Library Association. Used with permission.
9780385536073
A major change of pace from megaseller Grisham. Joe Castle, from Calico Rock, Arkansas, took the baseball world by storm in 1973. He homered in his first three major league at bats for the Chicago Cubs. Two months later, he was still hitting more than .500. Then, in his next at bat after homering off Warren Tracey, a surly journeyman pitcher, Tracey drilled a fastball at Joe's head. The damage was severe. Joe's right eye socket was destroyed, and he never played again, retreating back to Calico Rock, far from the public eye. Tracey soon retired from the Mets and drifted into booze and a succession of ex-wives. Thirty years later, Tracey's estranged son, Paul, on learning of his father's impending death from cancer, tries to bring Warren Tracey and Joe Castle together. His motive? Closure. But perhaps, more than anything, Paul needs to see his father do one decent thing in a life filled with regrets and bad behavior. Grisham, of course, is known for his courtroom thrillers but has long harbored a desire to write a baseball novel. Inspired by the real-life story of Yankee pitcher Carl Mays, whose fastball struck and killed Cleveland shortstop Roy Chapman in 1920, Grisham tells his own version of a hit-batsman tragedy, but Paul, the narrator, is curiously deadpan given the highly charged emotions at play. The end result is a solid baseball story but one that never delivers the emotional payoff readers will expect. HIGH-DEMAND BACKSTORY: The name Grisham and a 1,000,000-copy first printing say it all.--Lukowsky, Wes Copyright 2010 Booklist