by Eowyn Ivey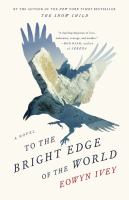 Book list
From Booklist, Copyright © American Library Association. Used with permission.

*Starred Review* Ivey's highly anticipated second novel, following The Snow Child (2012), is again set in the wilds of her native Alaska. She portrays a fictional 1885 expedition, led by Colonel Allen Forrester of the U.S. Army, into the newly acquired Alaska Territory to map the area's rivers and gather information about the Native populations. By means of the colonel's journal entries and letters between him and his wife, Sophie, who remains at the Vancouver barracks, Ivey deftly draws the reader into the perils of the journey. Forrester is accompanied by only two other officers and a few Indian guides they enlist en route; their goal as they embark in February 1885 is to return to Vancouver before the next winter. Forrester describes the challenges he faces, in a late-nineteenth-century style Ivey captures perfectly, including traveling on rivers of ice, dodging huge ice boulders loosened by the spring thaw, re-routing around narrow canyons, and suffering near-starvation and gut-wrenching illnesses. Sophie is a strong character as well; a feminist who chafes at the social restrictions of the barracks, she teaches herself photography in her husband's absence. Ivey presents a compelling historical saga of survival.--Donovan, Deborah Copyright 2016 Booklist
---
Publishers Weekly
(c) Copyright PWxyz, LLC. All rights reserved

An 1885 wilderness expedition, a female pioneer of photography, and Native American myths come to life make Ivey's second novel (after The Snow Child) an entrancing, occasionally chilling, depiction of turn-of-the-century Alaska. Through diaries, letters, reports, newspaper clippings, drawings, and photographs, Ivey evokes an Indian Wars veteran's expedition up the Wolverine River into Alaska's northern interior. Colonel Allen Forrester's mission is to map the territory, make contact with inhabitants, and collect information for future (military or commercial) enterprises. While his wife, Sophie, remains in Vancouver, Forrester sets off with the intellectually gifted Pruitt and Sergeant Tillman, a rough-and-tumble miner's son. Others joining the party include a trapper, his partner, a Native American woman who claims to have slit her husband's throat, and a dog. But the strangest traveling companion, more nemesis than guide, is an old Native American known as the Man Who Flies on Black Wings, who is reputed to be a raven who can take the form of man. Bogged down by the terrain and his own ignorance, loosening ties to civilization if not reality, Pruitt succumbs to memories, and Forrester refuses to shoot wild geese fearing they may be humans in animal form. Sophie, meanwhile, learns to use a camera, building her own darkroom and a hunter's blind to photograph bird nests in the wild. Years later, a descendant of the Forresters donates their journals and artifacts to a museum in the small town now on the expedition route, site of rafting tours and a million-dollar fishing lodge. In this splendid adventure novel, Ivey captures Alaska's beauty and brutality, not just preserving history, but keeping it alive. Agent: Jeff Kleinman, Folio Literary. (Aug.) © Copyright PWxyz, LLC. All rights reserved.
---
Library Journal
(c) Copyright Library Journals LLC, a wholly owned subsidiary of Media Source, Inc. No redistribution permitted.

Authorized to lead an 1885 winter exploratory expedition up the Wolverine River into the Alaska interior, Lt. Col. Allen Forrester leaves his wife of a few short months to travel more than 1,000 miles over the most hostile terrain imaginable. Woefully unprepared for the climate, scarcity of food, and potentially hazardous exchanges with the native inhabitants, he and his men find a land that is as deadly as it is mysterious and beautiful. Meanwhile, bride Sophie faces a difficult pregnancy alone in Vancouver, WA. The entire novel consists of the correspondence between the couple-neither of them knowing if those letters will even reach the other. Interspersed are other letters between an exhibitor in Alaska and Allen's great nephew who wants the Forresters' story to be curated and preserved. This reviewer has never cared for epistolary novels, but Ivey not only makes it work, she makes it work magnificently. The personal nature, the immediacy of the writing puts the reader in the heart of the story, allowing one to become a participant rather than a mere observer. Verdict Ivey's first novel, The Snow Child (a lovely retelling of an old Russian folk tale), was a runaway hit, an international best seller, and a finalist for the Pulitzer Prize. Her second work is even better! [See Prepub Alert, 2/8/16.]-Jane Henriksen Baird, Anchorage P.L., AK © Copyright 2016. Library Journals LLC, a wholly owned subsidiary of Media Source, Inc. No redistribution permitted.