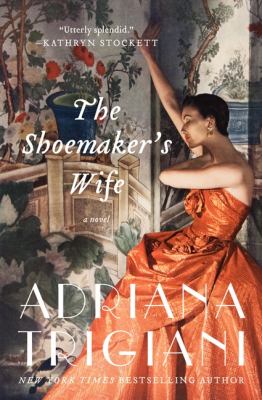 The Shoemaker's Wife
by Adriana Trigiani


Library Journal Italian teenagers Ciro Lazzari and Enza Ravanelli feel an instant romantic connection when they first meet in the Alps in 1908, but their budding relationship is interrupted when Ciro must quickly leave Italy after learning a local priest's shameful secret. The two meet again years later in New York City, where Ciro works as an apprentice to a shoemaker and Enza enjoys the elegant life of a seamstress at the opulent Metropolitan Opera. The couple's trials continue as the story takes them to the harsh winters of Minnesota and through the horrors of two world wars, helping them both finally to realize fully the true value of love and family. While her plot is somewhat predictable, popular novelist Trigiani (Lucia, Lucia) has created two immensely likable main characters, and it's a particular pleasure to root for Enza, a caring but independent woman who loves Ciro but also has dreams of her own. VERDICT Trigiani's gift for using vivid details to create a strong sense of place and her warm affection for her characters will make this a satisfying read for her many fans. [Seven-city tour; library marketing; see Prepub Alert, 11/21/11.]-Mara Bandy, Champaign P.L., IL (c) Copyright 2012. Library Journals LLC, a wholly owned subsidiary of Media Source, Inc. No redistribution permitted.
(c) Copyright 2010. Library Journals LLC, a wholly owned subsidiary of Media Source, Inc. No redistribution permitted.
Book list As the twentieth century begins, two teenagers living in the Italian Alps, Enza and Ciro, share a kiss that will linger across continents and time. Forced by circumstances to leave their beloved mountains, both land in New York City, where they pass in and out of one another's lives. Gradually, the practical-minded Enza makes a name for herself as a seamstress, eventually sewing for the great Caruso at the Metropolitan Opera, while Ciro develops into a skilled shoemaker and the charming rake of Little Italy. Their paths remain star-crossed until Ciro realizes what Enza has known all along, that they are destined for each other. Drawing on her own family history, adored, best-selling Trigiani (Brava, Valentine, 2010) has crafted a gorgeous romantic saga that succeeds on the appealing chemistry of her well-matched lovers, whom readers will take to heart as dear friends. Though set a century ago, this expansive epic, which seems tailor-made for a miniseries, manages to feel both old-fashioned and thoroughly contemporary as Enza and Ciro come to exemplify the immigrant experience in America as strangers in a strange land who ultimately find themselves at home in a new world. HIGH-DEMAND BACKSTORY: A major publicity campaign, including a national tour and strong social media presence, will launch passionately popular Trigiani's new, irresistible love story.--Wetli, Patty Copyright 2010 Booklist
From Booklist, Copyright © American Library Association. Used with permission.