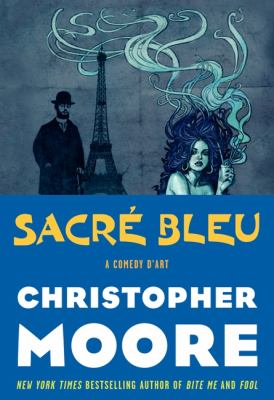 Sacré Bleu
by Christopher Moore


Library Journal Moore (Fool; You Suck) set out to write a book about the color blue. What he ended up with is a surprisingly complex novel full of love, death, art, and mystery. When baker-turned-aspiring artist Lucien Lessard, whose father was friends with some of the preeminent French artists of the late 19th century, receives a special tube of vibrant blue paint from the mysterious Juliette, his amateurish painting becomes masterly and his life becomes a mess. Obsessed with painting and loving Juliette, Lucien must discover the mystery of the blue paint, the origins of Juliette, and the identity of her near-constant companion, the frighteningly sinister Colorman who haunted other artists like Van Gogh, Monet, Pissarro, and Cezanne. In the end, the true question for Lucien is, "At what price art?" VERDICT Don't let Moore's quirky characters and bawdy language fool you. His writing has depth, and his peculiar take on the impressionists will reel you in. One part art history (with images of masterpieces interspersed with the narrative), one part paranormal mystery, and one part love story, this is a worthy read. Considering the large marketing push and Moore's rabid fan base, expect demand. [Nine-city tour; see Prepub Alert, 10/9/11.]-Jennifer Beach, Cumberland Cty. P.L., VA (c) Copyright 2012. Library Journals LLC, a wholly owned subsidiary of Media Source, Inc. No redistribution permitted.
(c) Copyright 2010. Library Journals LLC, a wholly owned subsidiary of Media Source, Inc. No redistribution permitted.
Publishers Weekly Art history is playfully-and perilously-rewritten in this ambitious novel by bestseller Moore (Bite Me). Working backward from the death of Vincent Van Gogh in 1890, we meet frustrated painter and favored son of a Paris bakery family, Lucien Lessard, whose best pal happens to be Henri Toulouse-Lautrec, that fabled frequenter of brothels. All his life, Lucien has heard words of wisdom and tutelage not only from Toulouse-Lautrec, but also Renoir, Pissarro, and Theo Van Gogh. But after Toulouse-Lautrec receives a strange letter from Van Gogh, dated just before his death, the two begin to investigate "the Colorman," an odd figure who sold the titular brilliant ultramarine paint to all of these fabled painters during their most prolific, mad, and forgotten periods of work (the Colorman's arrivals also coincided with the painters' most intense love affairs). During their investigation, Lucien and Toulouse-Lautrec will discover that the mystery and Lucien's muse, Juliette, are intimately connected. Spanning nearly 30 years-with a brief interlude in Roman times-the story is steeped in Western art: Renaissance Italy; medieval cathedrals; the fields and studios of pre, post, and high impressionism. Though the question at the story's heart is less interesting than the fictional anecdotes about the great masters, fans of Moore's mix of wit and slapstick will be pleased. Photos. Agent: Nicholas Ellison, the Nicholas Ellison Agency. (Apr. 3) (c) Copyright PWxyz, LLC. All rights reserved.
(c) Copyright PWxyz, LLC. All rights reserved
Book list Moore drops his readers into the strange world of nineteenth-century France, where the line between past and present, real and surreal, shifts with a mere brushstroke. A baker and aspiring artist, protagonist Lucien Lessard grew up surrounded by Impressionist painters, all of whom seem to have fallen under the magical spell of a particular shade of blue. Van Gogh's death and posthumous warning of a dangerous villain, the Colorman, sets Lessard and his friend, Henri Toulouse-Lautrec, off on a journey to discover the power behind the Colorman's blue paint. Entwined in their journey is the beautiful but mysterious Juliette. Mingling comedy and mystery, Moore crafts an intricate story that teases the reader with numerous twists and bawdy humor. While Lessard is fictional, many of the characters are based on historical figures, and their use of modern slang can be jarring. Toulouse-Lautrec emerges vibrantly, but some of the other painters struggle to come to life. Still, this is an imaginative and amusing look at the Impressionist era, and Moore's prose is fresh and engaging.--Gaus, Eve Copyright 2010 Booklist
From Booklist, Copyright © American Library Association. Used with permission.