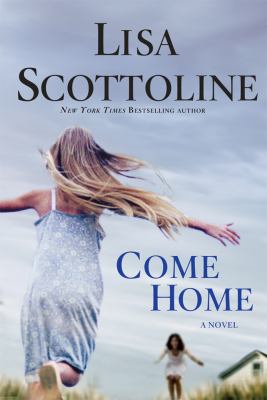 Come Home
by Lisa Scottoline


Publishers Weekly Complex family dynamics and carefully concealed secrets drive this gripping stand-alone from Edgar-winner Scottoline (Save Me). Jill Farrow, a Philadelphia pediatrician, and her teenage daughter, Megan, live with Jill's calm and forbearing fiance, Sam Becker. When Jill's estranged 19-year-old ex-stepdaughter, Abby Skyler, rushes into Jill's home late one rainy night to tell her that her ex-husband, William, is dead, apparently of a drug overdose, Jill can summon little sympathy for the unscrupulous William. When the distraught Abby insists that her father was murdered and that Jill must help her find his killer, Jill is reluctant to get involved, particularly since the police can find no evidence of a crime. As Jill tries to juggle her duties as doctor, mother, and sleuth, her delving into William's murky past puts emotional strain on Megan and jeopardizes her relationship with Sam. A surfeit of melodrama and some anemic subplots are unlikely to deter the author's many loyal fans. Author tour. Agent: Molly Friedrich, Friedrich Literary Agency. (Apr.) (c) Copyright PWxyz, LLC. All rights reserved.
(c) Copyright PWxyz, LLC. All rights reserved
Book list Just as in Save Me (2011), Scottoline delivers a satisfying thriller with a family saga at its core. Jill, a pediatrician in her forties, is ready to get the next chapter of her life underway with her medical researcher fiance, Sam, and her wonderful middle-school daughter, Megan. But when she learns of the death of her ex, William, her future is put on hold as she tries to make sense of the past. William was a con man and a user, but during their 10-year marriage, Jill was mother to his two young daughters, Victoria and Abby, and feels an obligation to help them now that they're alone. But when Abby asks for help not only with learning how to run a household but also with proving that her father's death wasn't accidental but murder, Jill gets over her head and risks losing Sam as she pursues Abby's seemingly immature and outlandish leads. While readers may miss Scottoline's hugely popular Rosato and Associates series, this character-driven stand-alone proves equally involving. HIGH-DEMAND BACKSTORY: Scottoline has been stretching her wings a bit with two stand-alones heavy on domestic drama, but loyal fans of her legal thrillers signed on for Save Me and are likely to do the same this time.--Wilkens, Mary Frances Copyright 2010 Booklist
From Booklist, Copyright © American Library Association. Used with permission.
Library Journal Pediatrician Jill Farrow lives an ordinary suburban life with her 13-year-old daughter, supportive fiance, and well-fed golden retriever until a midnight visitor turns her idyllic life upside down. Jill's ex-stepdaughter Abby arrives with the news that Jill's ex-husband, William, is dead and she suspects foul play. Despite distaste for her ex and a three-year estrangement from her two stepdaughters, Jill begins investigating William's death to help Abby obtain closure. Fueled by her strong maternal instincts, Abby's quest for the truth propels her into a dangerous cat-and-mouse chase that risks her closest relationships and threatens her life. -VERDICT Scottoline (Save Me; Look Again) deftly speeds readers through a dizzying labyrinth of intrigue with more hairpin turns and heart-pounding drops than a theme-park ride. This thrilling testament to a mother's relentless love may well be Scottoline's best novel to date. Her many fans and other mystery/thriller aficionados will want to read it. [300,000-copy first printing; national tour; see Prepub Alert, 10/31/11.]-Mary Todd Chesnut, Northern Kentucky Univ. Lib., Highland Heights (c) Copyright 2012. Library Journals LLC, a wholly owned subsidiary of Media Source, Inc. No redistribution permitted.
(c) Copyright 2010. Library Journals LLC, a wholly owned subsidiary of Media Source, Inc. No redistribution permitted.