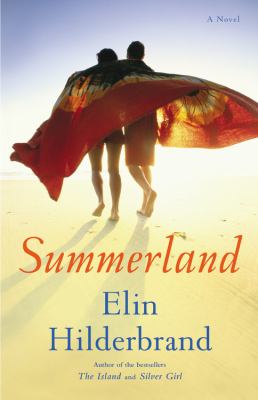 Summerland
by Elin Hilderbrand


Book list It's graduation day at Nantucket High School, and the senior class is celebrating with a beach party and bonfire. But what starts out as a joyous celebration ends in tragedy when a car filled with students crashes on an isolated country road. The crash kills the driver, Penny Alistair, and leaves her twin brother, Hobson, in a coma. The other two occupants, Penny's boyfriend, Jake, and her friend, Demeter, escape unharmed but are emotionally scarred. The fallout from the devastating accident grips the tight-knit community. By all accounts, Penny intentionally drove the car off the road. But what would cause Penny, a talented singer with a brilliant career ahead of her, to risk her life and the lives of her closest friends? The aftermath of the accident reveals a group of young people struggling with their own demons and a community wrapped in a complicated web of secrets. Hilderbrand (Silver Girl, 2011) has once again written an engaging story wonderfully illustrating the often complex lives of young people struggling toward adulthood and the roles of parents and the community in negotiating that journey.--Gladstein, Carol Copyright 2010 Booklist
From Booklist, Copyright © American Library Association. Used with permission.
Library Journal Graduation night is an evening of fun and celebration for four Nantucket high school students, but it ends tragically after Penny Alistair wrecks her boyfriend's Jeep, losing her life and putting her twin brother Hobby in a coma. The other two passengers, Penny's boyfriend, Jake, and her friend Demeter, along with all of the island residents, are stunned and confused. In the following weeks, secrets come to light that reveal Nantucket is more than just a destination for summer fun. VERDICT Hildebrand's (Silver Girl; Summer People) latest touches on heavy subject matter but has a satisfying conclusion. Like Jodi Picoult, she writes about ordinary, believable characters in a difficult situation that could happen to anyone. While the multiple points of view are tough to follow at first, once the story "clicks," fans of realistic fiction will find themselves devouring this novel to discover what really happened that night on the beach. [See Prepub Alert, 12/12/11.]-Amber Woodard, Cumberland Univ. Lib., Lebanon, TN (c) Copyright 2012. Library Journals LLC, a wholly owned subsidiary of Media Source, Inc. No redistribution permitted.
(c) Copyright 2010. Library Journals LLC, a wholly owned subsidiary of Media Source, Inc. No redistribution permitted.
Publishers Weekly Nantucket Island's year-round residents are shaken when a car crash claims the life of driver Penny Alistair, a vibrant and popular high school student, and leaves her twin brother, Hobby, in a coma. The other passengers, Penny's boyfriend Jake and their friend Demeter, each have secrets, and everyone is touched by the tragedy, in fact, practically everyone on the island feels some responsibility for the accident. What did Demeter, who had been drinking, divulge to Penny on the beach that night? Was it Jake's indiscretion after the cast party for the high school's production of Grease, or Hobby's just before prom? Was it the newspaper publisher's affair, or Penny's knowledge of his wife's depression after the loss of her infant son? Each character's guilt rubs them raw with worry. The sparks that this story throws out becomes a current that circles the agitated kids and their parents, electrifying the atmosphere as they grapple with what happened. Hilderbrand (Silver Girl) has a gift for building tension, and the reader will be willing to do just about anything to discover the real reason why Penny would drive herself, her brother, and her boyfriend over an embankment into oblivion. Agent: Michael Carlisle/David Forrer, Inkwell Management. (June) (c) Copyright PWxyz, LLC. All rights reserved.
(c) Copyright PWxyz, LLC. All rights reserved