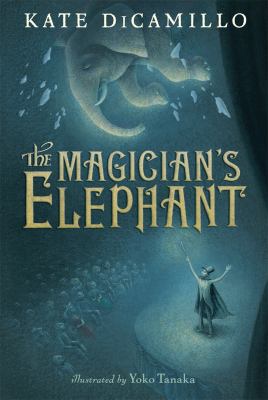 The Magicians Elephant
by Kate DiCamillo


School Library Journal Gr 4-6-On a perfectly ordinary day, Peter Augustus Duchene goes to the market square of the city of Baltese. Instead of buying the fish and bread that his guardian, Vilna Lutz, has asked him to procure, he uses the coin to pay a fortune-teller to get information about his sister, whom he believes to be dead. He is told that she is alive, and that an elephant will lead him to her. That very night at a performance in the town's opera house, a magician conjures up an elephant (by mistake) that crashes through the roof and cripples the society dame she happens to land on. The lives of the boy, his guardian, and the local policeman, along with the magician and his unfortunate victim, as well as a beggar, his dog, a sculptor, and a nun all intertwine in a series of events triggered by the appearance of the elephant. Miraculous events resolve not only the mystery of the whereabouts of Peter's sister, but also the deeper needs of all of the individuals involved. DiCamillo's carefully crafted prose creates an evocative aura of timelessness for a story that is, in fact, timeless. Tanaka's acrylic artwork is meticulous in detail and aptly matches the tone of the narrative. This is a book that demands to be read aloud.-Tim Wadham, St. Louis County Library, MO (c) Copyright 2010. Library Journals LLC, a wholly owned subsidiary of Media Source, Inc. No redistribution permitted.
(c) Copyright 2010. Library Journals LLC, a wholly owned subsidiary of Media Source, Inc. No redistribution permitted.
Publishers Weekly In DiCamillo's fifth novel, a clairvoyant tells 10-year-old Peter, an orphan living with a brain-addled ex-soldier, that an elephant will lead him to his sister, who the ex-soldier claims died at birth. The fortuneteller's prediction seems cruelly preposterous as there are no pachyderms anywhere near Baltese, a vaguely eastern European city enduring a bitter winter. Then that night at the opera house, a magician "of advanced years and failing reputation" attempts to conjure a bouquet of lilies but instead produces an elephant that crashes through the ceiling. Peter learns that both magician and beast have been jailed, and upon first glimpse of the imprisoned elephant, Peter realizes that his fate and the elephant's are linked. The mannered prose and Tanaka's delicate, darkly hued paintings give the story a somber and old-fashioned feel. The absurdist elements-street vendors peddle chunks of the now-infamous opera house ceiling with the cry "Possess the plaster of disaster!"-leaven the overall seriousness, and there is a happy if predictable ending for the eccentric cast of anguished characters, each finding something to make them whole. Ages 8-13. (Sept.) (c) Copyright PWxyz, LLC. All rights reserved
(c) Copyright PWxyz, LLC. All rights reserved
Book list *Starred Review* From the unexpectedly miraculous feats of a two-bit illusionist to the transformative powers of love, forgiveness, and a good mutton stew, there is much magic afoot in this fablelike tale from the author of the Newbery-winning Tale of Despereaux (2003). In DiCamillo's fifth novel, a young orphan named Peter Augustus Duchene suspects that the sibling he long thought dead is actually alive. Peter seeks out the services of a fortune-teller, who informs him that his younger sister, Adele, lives and even more astoundingly that an elephant will lead him to her. The winter-worn city of Baltese seems the last place Peter could expect to find such an exotic creature, but that very night a magician performing at the local opera house conjures one out of thin air, a wondrous but cataclysmic event that proves to have dire consequences. When the displaced elephant is put on public display, Peter is so stirred by her obvious suffering that he is compelled to risk the one chance he has of finding Adele to set things right. Although the novel explores many of the same weighty issues as DiCamillo's previous works, characters here face even more difficult hurdles, including the loss of loved ones, physical disabilities, and the cost of choices made out of desperation and fear. The profound and deeply affecting emotions at work in the story are buoyed up by the tale's succinct, lyrical text; gentle touches of humor; and uplifting message of redemption, hope, and the interminable power of asking, What if? Tanaka's charming black-and-white acrylic illustrations have a soft, period feel that perfectly matches the tone of this spellbinding story.--McKulski, Kristen Copyright 2009 Booklist
From Booklist, Copyright © American Library Association. Used with permission.