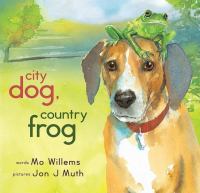 Book list
From Booklist, Copyright © American Library Association. Used with permission.

*Starred Review* The book begins in spring. City Dog comes to the country, thrilled to run without a leash. Something stops him Country Frog. Frog's waiting for a friend: But you'll do. After that the duo plays together, and Frog teaches Dog about splashing and croaking. In the summer, City Dog returns and runs to see Frog. Now it's his turn to teach Frog games, replete with sniffing, fetching, and barking. In the fall, Country Frog is tired. Maybe we can play remembering games. And that's what they do, remembering jumping and splashing, sniffing and barking. In the winter, snow is everywhere, but Frog is gone. When spring returns, a chipmunk comes across City Dog. What are you doing? she asks. City Dog replies sadly, Waiting for a friend. Then he smiles a froggy smile and adds, But you'll do. It's hard to imagine a picture book that more consistently (and touchingly) hits all the right notes. Willems, never one to overwrite, is gracefully spare here, making every word count. That leaves room for Muth's watercolors, richly seasonal, which fill each page. The pictures are imbued with hope and happiness, leaving and longing. This wonderful collaboration makes a significant impact with subtlety and wit. Adults and children will each take away something of their own.--Cooper, Ilene Copyright 2010 Booklist
---
Publishers Weekly
(c) Copyright PWxyz, LLC. All rights reserved

Muth (Zen Shorts) sets a limpid rural scene for Willems's (Naked Mole Rat Gets Dressed) two unlikely friends in this tranquil tale of change. One spring day, redolent with fresh yellow-greens and pale blues, City Dog tastes life "without a leash!" Exploring a reedy pond, he meets Country Frog, who teaches him "jumping and splashing and croaking." When summer arrives, City Dog demonstrates "sniffing and fetching and barking." Fall brings orange-gold foliage and a brown cast to Country Frog's emerald skin. In wintertime, City Dog trots through the snow to find Country Frog's favorite rock unoccupied. A closing chapter, "spring again," shows City Dog encountering another animal and repeating the same greeting Country Frog met him with the year before. Willems's concise sentences, paired with joking illustrations in his other works, lose their hilarity-but gain significant emotional weight-when matched with Muth's watercolors. Pink blossoms and red maple leaves allude to Japanese art; Muth pictures Country Frog as a wise tutor who tosses a stick for his apprentice and, in a rain shower, protectively holds a leaf over the dog. The understated episodes acknowledge the transitory nature of the seasons and of life itself. Ages 3-6. (June) Copyright 2010 Reed Business Information.
---
School Library Journal
(c) Copyright 2010. Library Journals LLC, a wholly owned subsidiary of Media Source, Inc. No redistribution permitted.

PreS-Gr 2-Spare, poignant, and ultimately upbeat, this tale depicts the natural cycle of friendship from an enthusiastic first encounter to contented companionship to the heartbreak of loss and eventual emotional renewal. Presented with a comfortingly consistent narrative structure, the events are set against the backdrop of the changing seasons, reassuring readers that winter will turn again to spring, sadness to joy. In "spring," City Dog runs free in the countryside for the first time ever and discovers an unfamiliar creature perched on a rock. Asked, "What are you doing?" Country Frog smiles and replies, "Waiting for a friend.but you'll do." The two play Country Frog games ("jumping and splashing and croaking") and when reunited in "summer," they enjoy City Dog pastimes ("sniffing and fetching and barking"). In "fall," Country Frog is tired, so the friends spend their time remembering. When City Dog arrives again in "winter," Country Frog is nowhere to be found (a wordless spread shows the pooch sitting on the rock, looking small and forlorn against a stark winterscape). In "spring again," a sad-looking City Dog befriends another critter with a familiar line, and then beams "a froggy smile" (shown in close-up, this warmly illustrated grin guarantees that Country Frog will not be forgotten). Making expert use of color and texture, Muth's expressive paintings clearly convey the tale's emotional nuances. This understated picture book allows plenty of room for young readers to interpret the animals' feelings for themselves and perhaps discuss their own emotions.-Joy Fleishhacker, School Library Journal Copyright 2010 Reed Business Information.