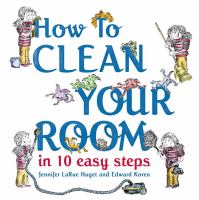 School Library Journal
(c) Copyright 2010. Library Journals LLC, a wholly owned subsidiary of Media Source, Inc. No redistribution permitted.

K-Gr 2-A girl demonstrates how to get results and have fun at the same time. Dusting can be done with a sock, dust bunnies can be hidden away in a dresser drawer with the candy wrappers ("You know, for crafts"), and unwanted and broken toys can be wrapped up and given to a younger sibling. The things that you love should be shoved into the closet with the door secured tightly. "Watch out. It might explode." The tongue-in-cheek humor in Koren's pen-and-ink and watercolor illustrations and Huget's writing will be appreciated by children who are responsible for cleaning their own rooms. They may not have a pet cat and dog helping them as Ann Erica Kelly does, but her story lightens the burden of this most dreaded chore.-Tanya Boudreau, Cold Lake Public Library, AB, Canada Copyright 2010 Reed Business Information.