by Tom Reiss ; [maps by David Lindroth Inc.]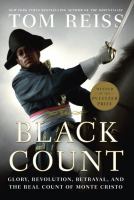 Library Journal
(c) Copyright Library Journals LLC, a wholly owned subsidiary of Media Source, Inc. No redistribution permitted.

Confronted with the surname Dumas, most readers are likely to think of Alexandre Dumas, author of such classics as The Count of Monte Cristo and The Three Musketeers. But in The Black Count, Reiss (The Orientalist) explores the life of the writer's father, a man of mixed racial and cultural heritage, born in Saint-Domingue to a slave mother (her last name was Dumas) and a French aristocrat. His father brought him to France, where, because of his tremendous courage and physical gifts, he rose through the ranks of the French military under Napoleon to become a general. He was taken prisoner of war when his ship returning to France from Cairo was captured near Sicily, and he died five years later, when his son was not yet four. Reiss seeks to demonstrate the great effect of the elder Dumas on his son's fiction, inspiring many of the characters and situations in those works. VERDICT While Reiss occasionally strays from the central narrative with an abundance of tangential detail regarding the French Revolution, this accessible read is recommended for fans of popular narrative nonfiction as well as for both casual and serious students of French history, and of the younger Dumas's work.-Ben Neal, Sullivan Cty. P.L., Bristol, TN. (c) Copyright 2012. Library Journals LLC, a wholly owned subsidiary of Media Source, Inc. No redistribution permitted.
---
Publishers Weekly
(c) Copyright PWxyz, LLC. All rights reserved

Alex Dumas, an extraordinary man whose sensational life had been largely lost to history solely because of his race, takes the spotlight in this dynamic tale. Thanks to Reiss's excellent research, combined with the passionate memorial his son, Alexandre Dumas, consistently built in his own novels and memoir, Dumas's life has been brought back to light. Father to the well-known novelist and clear inspiration for The Count of Monte Cristo, as well as the adventurous spirit of The Three Musketeers and other stories, Dumas (1762-1806) rose through the ranks of the French army from a lowly private in the dragoons to become a respected general who marched into Egypt at Napoleon's side. (The rivalry and juxtaposition between these two leaders proves fascinating.) Born in what is now Haiti to a French nobleman father and a slave mother, the biracial Dumas chanced to come of age during the French Revolution, a brief period of equality in the French empire; he was thus granted numerous opportunities that the son of a slave 20 years before him (or even 20 years later) would not have enjoyed. Reiss capitalizes on his subject's charged personality as well as the revolutionary times in which he lived to create an exciting narrative. Agent: Tina Bennett, Janklow & Nesbit. (Sept.) (c) Copyright PWxyz, LLC. All rights reserved.
---
Book list
From Booklist, Copyright © American Library Association. Used with permission.

The inspiration for some of the great adventure tales of Alexandre Dumas has long been a subject of curiosity and debate. According to Reiss, the inspiration for the great novel of intrigue, betrayal, and revenge, The Count of Monte Cristo, was Dumas' own father, General Alexandre Alex Dumas. In this often thrilling and often sad chronicle, Reiss makes clear that Alex lived a life as full of adventure, triumph, and tragic loss as any of his son's literary creations. He was born in Haiti, the child of an enslaved mother and an erratic French aristocrat who briefly sold his son into slavery. Despite the obvious and immense political and racial obstacles in his path, Alex found his way to Paris, became a skilled swordsman, and rose rapidly in the reorganized army of the French Republic, where he served admirably during Napoleon's invasions of Egypt. Unfortunately, like his literary counterpart, Edmond Dantes, Alex incurred the hostility of powerful people, leading to his fall from grace and eventual impoverishment. This is an absorbing biography that should redeem its subject from undeserved obscurity.--Freeman, Jay Copyright 2010 Booklist