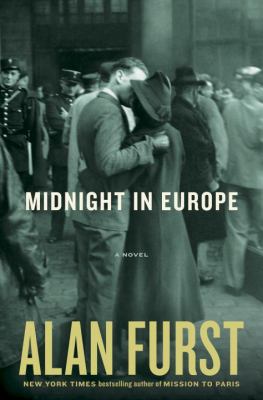 Midnight In Europe
by Alan Furst


Publishers Weekly After a slow start, this spy thriller set in 1938 from Edgar finalist Furst (Mission to Paris) settles into a lazy pace, as it charts the attempts of two part-time arms dealers, Chistian Ferrar and Max de Lyon, to serve the Spanish Republic and its beleaguered army while most of the continent has its eye on Berlin. Every clandestine mission they undertake-a prolonged quest for cannons in Poland, a nifty operation to trick Russia out of field guns and antiaircraft weaponry in Odessa-is fraught with struggle, and the pro-Franco Nazi spy apparatus always seems one step ahead. A revolving cast of secondary characters leads several plotlines that peter out, heavy on atmosphere, light on action. As usual, Furst manages to capture the fragile, itinerant nature of European life during the interwar period, dropping in hints of the horror to come, but this is one of his less memorable efforts. Agent: Amanda Urban, ICM. (June) (c) Copyright PWxyz, LLC. All rights reserved.
(c) Copyright PWxyz, LLC. All rights reserved
Book list *Starred Review* In 1937, the lights were going out in Europe, but jackbooted blackness had not quite swept the Continent. Through multiple novels, Furst has illuminated moments of reluctant courage and desperate love in a world teetering on the edge of destruction. He does so again here, and, as always, he does it exquisitely. We've met Furst's unwilling heroes before, typically in Paris, as they bask in the City of Light while turning away from the chaos in their homeland, whether Poland, Italy, or Germany. This time it's Spain, where a doomed war is already raging. Spanish emigre Christian Ferrar is a successful lawyer at an international firm, juggling his time between Paris and New York and happy to be far from the troubles in Spain. Yet, when he is approached to aid those supplying the Republican troops with arms, he is surprised to find himself complying. And so begins another tale of clandestine operations in which civilians step up, not out of idealism but out of the realization that history affords them no other choice. Furst is a master of mood, but, above all, he is able to show how the most personal of emotions love, especially drives the actions of men and women caught in a time of peril.--Ott, Bill Copyright 2010 Booklist
From Booklist, Copyright © American Library Association. Used with permission.