by Brit Bennett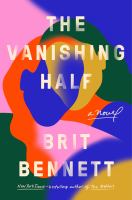 Kirkus
Copyright © Kirkus Reviews, used with permission.

Inseparable identical twin sisters ditch home together, and then one decides to vanish. The talented Bennett fuels her fiction with secrets—first in her lauded debut, The Mothers (2016), and now in the assured and magnetic story of the Vignes sisters, light-skinned women parked on opposite sides of the color line. Desiree, the "fidgety twin," and Stella, "a smart, careful girl," make their break from stultifying rural Mallard, Louisiana, becoming 16-year-old runaways in 1954 New Orleans. The novel opens 14 years later as Desiree, fleeing a violent marriage in D.C., returns home with a different relative: her 8-year-old daughter, Jude. The gossips are agog: "In Mallard, nobody married dark....Marrying a dark man and dragging his blueblack child all over town was one step too far." Desiree's decision seals Jude's misery in this "colorstruck" place and propels a new generation of flight: Jude escapes on a track scholarship to UCLA. Tending bar as a side job in Beverly Hills, she catches a glimpse of her mother's doppelgänger. Stella, ensconced in white society, is shedding her fur coat. Jude, so black that strangers routinely stare, is unrecognizable to her aunt. All this is expertly paced, unfurling before the book is half finished; a reader can guess what is coming. Bennett is deeply engaged in the unknowability of other people and the scourge of colorism. The scene in which Stella adopts her white persona is a tour de force of doubling and confusion. It calls up Toni Morrison's The Bluest Eye, the book's 50-year-old antecedent. Bennett's novel plays with its characters' nagging feelings of being incomplete—for the twins without each other; for Jude's boyfriend, Reese, who is trans and seeks surgery; for their friend Barry, who performs in drag as Bianca. Bennett keeps all these plot threads thrumming and her social commentary crisp. In the second half, Jude spars with her cousin Kennedy, Stella's daughter, a spoiled actress. Kin "[find] each other's lives inscrutable" in this rich, sharp story about the way identity is formed. Copyright © Kirkus Reviews, used with permission.
---
Publishers Weekly
(c) Copyright PWxyz, LLC. All rights reserved

Bennett (The Mothers) explores a Louisiana family's navigation of race, from the Jim Crow era through the 1980s, in this impressive work. The Vignes twins, Desiree and Stella, were born and raised in Mallard, La., the slave-born founder of which imagined a town with "each generation lighter than the one before." In the early 1940s, when the twins are little, they witness their father's lynching, and as they come of age, they harbor ambitions to get out. Desiree, the more headstrong sister, leads Stella to New Orleans when they are 16, and after a few months, the quiet, studious Stella, who once dreamt of enrolling in an HBCU, disappears one night. In 1968, 14 years later, still with no word from Stella, Desiree is back in Mallard with her eight-year-old daughter, Jude, having left her abusive ex-husband. When Jude is older, she makes her own escape from Mallard to attend college in Los Angeles. At a party, Jude glimpses a woman who looks exactly like Desiree—except she couldn't be, because this woman is white. Eventually, the Vignes twins reunite, reckoning with the decisions that have shaped their lives. Effortlessly switching between the voices of Desiree, Stella, and their daughters, Bennett renders her characters and their struggles with great compassion, and explores the complicated state of mind that Stella finds herself in while passing as white. This prodigious follow-up surpasses Bennett's formidable debut. (June)
---
Library Journal
(c) Copyright Library Journals LLC, a wholly owned subsidiary of Media Source, Inc. No redistribution permitted.

After achieving Hopwood and Hurston/Wright honors and debuting big with The Mothers, Bennett here features identical twin sisters, who at age 16 run away from their small, black, 1950s Southern town and take different paths, one passing for white. What's key is the relationship between their daughters.
---
Book list
From Booklist, Copyright © American Library Association. Used with permission.

In 1968, Desiree Vignes returns to her Louisiana hometown more than a decade after she and her twin sister, Stella, vanished overnight as teens. Her companion for this flight is her young daughter, Jude, with skin so dark it shocks locals. The twins' ancestor, the freed son of an enslaver, founded Mallard, "a town for men like him, who would never be accepted as white but refused to be treated like Negroes." Still bruised by the husband she fled, Desiree is in survival mode when the man hired to find her decides to help her find Stella, whom no one has heard from in years, instead. Spanning decades, the story travels to UCLA with teenage Jude, unknowingly nearing Stella's world. Cloistered in her Brentwood subdivision, Stella shares nothing of her early life with her husband and teenage daughter, Kennedy, and fiercely protects the presumed whiteness that became the foundation for her entire, carefully constructed life. Reflecting and refracting her story via the four related women—sisters, cousins, mothers, daughters—at its heart, and with an irresistible narrative voice, Bennett (The Mothers, 2016) writes an intergenerational epic of race and reinvention, love and inheritance, divisions made and crossed, binding trauma, and the ever-present past.HIGH-DEMAND BACKSTORY: The Mothers was a best-selling, award-winning debut, and anticipation for Bennett's second novel has been rising steadily.