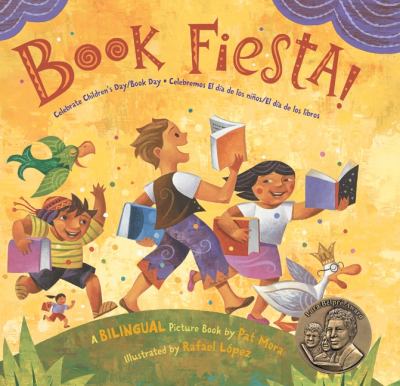 Book Fiesta!: Celebrate Childrens Day/Book Day; Celebremos El dia de los ninos/El dia de los libros
by Pat Mora


School Library Journal PreS-Gr 3-Mora encourages teachers, parents, and librarians to celebrate Children's Day/Book Day and includes ideas for observing the festivities. Written in English and Spanish, the text shows children reading in a variety of places, going to the library, listening to stories, and enjoying books. Lopez's acrylic illustrations fill the pages with color. His upbeat iconic style shows how much fun this celebration can be and portrays round-faced kids reading to a variety of pets and riding an elephant or sailing with a whale. Students will be encouraged to join in the book-based activities. This lively selection will motivate and excite children about the adventures they can go on through reading.-Sandra Welzenbach, Villarreal Elementary School, San Antonio, TX Copyright 2009 Reed Business Information.
(c) Copyright 2010. Library Journals LLC, a wholly owned subsidiary of Media Source, Inc. No redistribution permitted.
Book list How very appropriate that the first trade book about Children's Day/Book Day should be enthusiastically penned by the founder of this holiday, celebrated annually since 1996 on April 30, the same date as Mexico's Day of the Child. This call to arms for connecting kids and books exhorts everyone to read and have fun in whatever language and locale they choose: Hooray! Today is our day. ¡El día de los niños! Let's have fun today reading our favorite books. Toon! Toon! The straightforward, bilingual text in Spanish and English is beautifully illustrated in bright, bold, acrylic paintings that integrate books and letters into timeless scenes of multicultural children cavorting, exploring, and, of course, reading. Turn to the back of the book for more on Mora's inspirations and suggestions for celebrating children's literacy in your own community, and include this book in displays and read-alouds along with Judy Sierra and Marc Brown's Wild about Books (2004) and Born to Read (2008) to make every day un día de los libros.--Medlar, Andrew Copyright 2009 Booklist
From Booklist, Copyright © American Library Association. Used with permission.