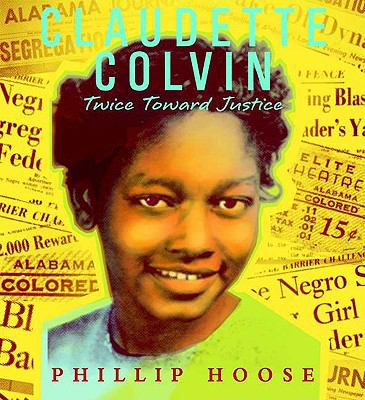 Claudette Colvin: Twice Toward Justice
by Phillip Hoose


School Library Journal Gr 6 Up-In Montgomery, AL, in March 1955, 15-year-old Colvin refused to give up her bus seat to a white passenger. She was arrested, and although she received some help from local civil rights leaders, they decided that the sometimes-volatile teen was not suitable to be the public face of a mass protest. Later that year, Rosa Parks sparked the famous bus boycott. Colvin was left with a police record and soon faced the additional problems of an unwed pregnancy and expulsion from school. In spite of those troubles, she consented to be named as a plaintiff in the court case that eventually integrated Montgomery's buses. Thus Colvin played a central role in the city's civil rights drama, but her story has been largely lost to history. Hoose, who had been curious about the often-unidentified teen who first defied bus segregation, persuaded her to tell her story. His book puts Colvin back into the historical record, combining her reminiscences with narrative about her life and the tumultuous events of the boycott. He includes background about segregated Montgomery and places Colvin's story into the context of the larger Civil Rights Movement. The text is supplemented with black-and-white photos, reproductions of period newspapers and documents, and sidebars. While virtually all students know Rosa Parks's story, this well-written and engaging book will introduce them to a teen who also fought for racial justice and give them a new perspective on the era, making it an outstanding choice for most collections.-Mary Mueller, Rolla Junior High School, MO Copyright 2009 Reed Business Information.
(c) Copyright 2010. Library Journals LLC, a wholly owned subsidiary of Media Source, Inc. No redistribution permitted.
Publishers Weekly In March 1955, nine months before Rosa Parks triggered the bus boycott in Montgomery, Ala., by refusing to surrender her seat to a white passenger, a 15-year-old Montgomery girl, Claudette Colvin, let herself be arrested and dragged off the bus for the same reason; in 1956, Colvin was one of four plaintiffs in Browder v. Gayle, a landmark case in which Montgomery's segregated bus system was declared unconstitutional. Investigating Colvin's actions, asking why Rosa Parks's role has overshadowed Colvin's, Hoose (We Were There, Too! Young People in U.S. History) introduces readers to a resolute and courageous teenager and explores the politics of the NAACP and bus-boycott leadership. Because Colvin had been tearful in the period following her 1955 conviction, when her classmates shunned her, she was deemed too "emotional" to place at the center of the bus boycott; by the time Parks assumed that position, Colvin was disgraced: pregnant but not married. Hoose's evenhanded account investigates Colvin's motives and influences, and carefully establishes the historical context so that readers can appreciate both Colvin's maturity and bravery and the boycott leadership's pragmatism. Illus. with b&w photos. Ages 10-up. (Feb.) Copyright 2009 Reed Business Information.
(c) Copyright PWxyz, LLC. All rights reserved
Book list *Starred Review* Nine months before Rosa Parks' history-making protest on a city bus, Claudette Colvin, a 15-year-old Montgomery, Alabama, high-school student, was arrested and jailed for refusing to give up her seat to a white passenger. Hoose draws from numerous personal interviews with Colvin in this exceptional title that is part historical account, part memoir. Hoose's lucid explanations of background figures and events alternate with lengthy passages in Colvin's own words, and the mix of voices creates a comprehensive view of the Montgomery bus boycott and the landmark court case, Browder v. Gayle, that grew from it. At the center of the headline-grabbing turmoil is teenager Colvin, who became pregnant during the boycott; and her frank, candid words about both her personal and political experiences will galvanize young readers. On each attractively designed spread, text boxes and archival images, including photos and reproduced documents, extend the gripping story. As in Hoose's We Were There, Too! Young People in U.S. History (2001), this inspiring title shows the incredible difference that a single young person can make, even as it demonstrates the multitude of interconnected lives that create and sustain a political movement. Thorough chapter notes and suggestions for further reading close this title, which will find an avid readership beyond the classroom.--Engberg, Gillian Copyright 2009 Booklist
From Booklist, Copyright © American Library Association. Used with permission.