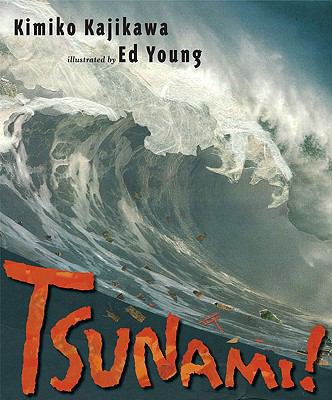 Tsunami!
by Kimiko Kajikawa


School Library Journal K-Gr 3-Wealthy Ojiisan suffers a feeling of foreboding as he watches colorful rice festival celebrations from his cottage high above his village by the sea. In his mountaintop home, he feels a spongy earthquake and observes bizarre movements in the sea: tsunami! How can Ojiisan alert the townspeople? Young uses a panoply of papers to create collages that tell the story of a sacrifice that saved hundreds of lives. Patterned and marbled papers, fibrous grass cloth, translucent rice paper and tissue, photographic magazine papers, and even corrugated cardboard are keenly cut, roughly torn, layered, wrinkled, mounted, and manipulated to produce images that range from dead calm to the sea-spittled tumult of a roiling vortex that promises to consume everything in its path. The art reflects the frenzy of the events and is a departure from the more serene, controlled, and balanced work we know of Young. Kajikawa has based the character of Ojiisan on Japanese hero Hamaguchi Gohei, who in 1854 set his own rice-stack harvest ablaze, diverting the attention of revelers and drawing them away from impending disaster. A simple story of the power of a simple act.-Kathy Krasniewicz, Perrot Library, Old Greenwich, CT (c) Copyright 2010. Library Journals LLC, a wholly owned subsidiary of Media Source, Inc. No redistribution permitted.
(c) Copyright 2010. Library Journals LLC, a wholly owned subsidiary of Media Source, Inc. No redistribution permitted.
Publishers Weekly An earthquake, a fire, a tidal wave and selfless heroism, all packed into 32 pages, guarantee that this story will hold the attention of even the most restless listeners. Four hundred villagers are saved from death when Ojiisan, a wealthy old rice farmer on the mountainside, feels tremors, sees the ocean recede and realizes a tsunami is coming. Caldecott Medalist Young's (Lon Po Po) collages-elaborate combinations of media ranging from cut and torn paper to photos of straw and bamboo-build steady tension as Ojiisan, disregarding his grandson's horror, sets his ripened rice fields alight in order to lure the villagers to higher ground. The double-page spread in which the monstrous, cresting black wave looms conveys real terror. Kajikawa's (Yoshi's Feast) portrait of an old man who acts unhesitatingly against his own interests delivers a forceful message, and the moral does not get in the way of the action. Ages 3-5. (Jan.) (c) Copyright PWxyz, LLC. All rights reserved
(c) Copyright PWxyz, LLC. All rights reserved
Book list In a coastal village in ancient Japan, Ojisan, a wise and wealthy village elder, and his grandson skip the seaside rice harvest festival, feeling something is not right. As the villagers celebrate on the shore, an earthquake, a long, slow, spongy motion, hits. The worshippers are curious and unperturbed, and chase the sea, which is quickly rushing away from land. But Ojisan knows it will return, as a tsunami. When he can't make himself heard, he sets the rice fields, and his livelihood, on fire. The villagers rush back to put out the fire, narrowly escaping the monster wave. Adapting a story by Lafcadio Hearn, Kajikawa imbues the story with a sense of nobility. Readers witness the events from Ojisan's point of view atop a hill and will appreciate his terrible realization and resourceful response. Young's rough, impressionistic collages of hand-painted papers, fabric, and organic material are dark and stirring, and they heighten the story's drama with dynamic compositions, then relax again as peace returns. This handsome book will enlighten and inspire young scientists and dreamers alike.--Barthelmess, Thom Copyright 2008 Booklist
From Booklist, Copyright © American Library Association. Used with permission.