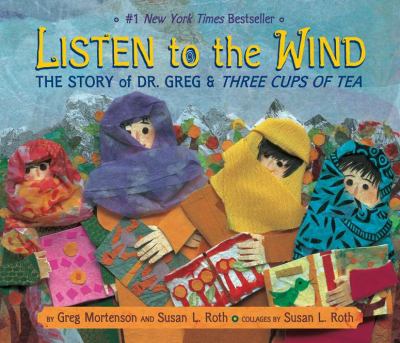 Listen to the Wind: The Story of Dr. Greg and Three Cups of Tea
by Greg Mortenson and Susan L. Roth


School Library Journal K-Gr 4-Holding true to the original title for adults, Three Cups of Tea (Viking, 2006), this moving story will amaze and inspire young readers. After getting lost while climbing the world's second tallest mountain, the K2 in the Baltistan region of Pakistan, Mortenson, a nurse, stumbled into a small village and learned of the dire circumstances in which local people lived. While recovering, Dr. Greg met the children of Korphe, who were eager to learn but were forced to write their lessons with sticks on the ground. Wanting to do something special for the village, he was encouraged by wise man Haji Ali to "listen to the wind." Dr. Greg listened, heard the eager voices of students at their lessons, and promised to return to build a school. The remarkable account of this quest, which involved constructing a bridge and manually carrying supplies to the building site, is magnificently enhanced by Roth's colorful collages. As explained in an artist's note, she incorporated fabric, bits of paper, and other fibers into the scenery in appreciation of the Balti people's aesthetic use of scraps. "A Korphe Scrapbook" follows the story, displaying photographs of the events, the village's inhabitants, and the librarian who helped to fill this school and the 57 more schools that have since been built in Pakistan and Afghanistan. Readers are informed that it is easy to make a difference by donating pennies to support education in impoverished countries. This truly exceptional and moving title should not be missed.-Michele Shaw, Quail Run Elementary School, San Ramon, CA Copyright 2009 Reed Business Information.
Copyright © Reed Business Information, a division of Reed Elsevier Inc. All rights reserved.
Book list *Starred Review* Best-selling author Mortenson told his remarkable story in the adult book Three Cups of Tea (2006). After getting lost while trying to climb the mountain K2, he found himself in a Pakistani village. This, as it turned out was the beginning of a different journey. Here Mortenson and Roth retell his remarkable story through the eyes of Pakistani children. After being rescued and nursed to health by the villagers, Mortenson wonders what he can do to thank them. Advised by a wise elder to listen to the wind, Mortenson becomes aware of children's voices, children he has helped teach during his convalescence, and he decides to build them a school. The steep terrain and remote setting present nearly overwhelming obstacles, but finally, the school is opened with great celebration. The picture-book narrative successfully compresses Mortenson's story by focusing on the elements most important to children: the stranger's appearance, the drama of the construction, the happy conclusion. Colorful fabric, cut-paper, and even computer-chip collages portray the dramatic landscape and incredible undertaking. Children will also enjoy an appended scrapbook of photographs, maps, and additional information. Pair this with Shazi Razzak's P Is for Pakistan (2007)--Perkins, Linda Copyright 2009 Booklist
From Booklist, Copyright © American Library Association. Used with permission.
Publishers Weekly In 1993, while climbing one of the world's most difficult peaks, Mortenson became lost and ill, and eventually found aid in the tiny Pakistani village of Korphe. He vowed to repay his generous hosts by building a school; his efforts have grown into the Central Asia Institute, which has since provided education for 25,000 children. Retold for middle readers, the story remains inspirational and compelling. Solid pacing and the authors' skill at giving very personal identities to people of a different country, religion and culture help Mortenson deliver his message without sounding preachy; he encourages readers to put aside prejudice and politics, and to remember that the majority of people are good. An interview with Mortenson's 12-year-old daughter, who has traveled with her father to Pakistan, offers another accessible window onto this far-away and underlines Mortenson's sacrifice and courage. Illustrated throughout with b&w photos, it also contains two eight-page insets of color photos. The picture book, while close in content to the longer books, is written in the voice of Korphe's children rather than providing Mortenson's view, making it easier for American kids to enter the story. Roth (Leon's Story) pairs the words with her signature mixed-media collage work, this time using scraps of cloth along with a variety of papers. Her work has a welcoming, tactile dimension-readers would want to touch the fabric headscarves, for example. A detailed scrapbook featuring photos from Three Cups of Tea and an artist's note firmly ground the book in fact. A portion of the authors' royalties will benefit the Central Asia Institute. (Jan.) Copyright 2008 Reed Business Information.
Copyright © Reed Business Information, a division of Reed Elsevier Inc. All rights reserved.