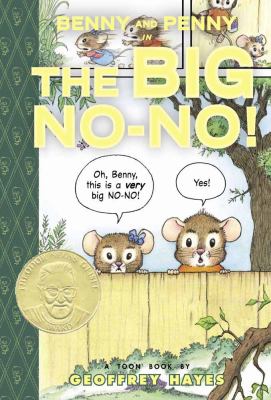 Benny and Penny in the Big No-No!
by Geoffrey Hayes


Book list In this delightful sequel to Benny and Penny in Just Pretend (2008), the mouse siblings have a new neighbor whom they suspect might be a thief, because Benny's pail is missing. When they look over the fence into the backyard, they see strange footprints. Then Benny falls into the yard, Penny follows, and they find a pail, mudpies, and a hedgehog girl wearing swim goggles and fins on her feet. They accuse each other, the hedgehog girl flings mud at the others, and the two mice go back to their yard where Penny finds Benny's pail in their sandbox. Now they have to go back and apologize. Young readers will recognize the misunderstanding and the bad first impressions people will sometimes make as Benny and Penny and Melina learn a lesson about making friends. Hayes draws charming little animal children with highly expressive faces, and he uses great dialogue, easy-to-follow panels, and fun sound effects; children will repeat his muddy splop! with gusto.--Kan, Kat Copyright 2009 Booklist
From Booklist, Copyright © American Library Association. Used with permission.
Publishers Weekly In the second comic book-style title to star brother and sister mice Benny and Penny, the fussy duo track down a mysterious "new kid" who may have climbed over the fence into their yard and stolen Benny's pail (a "no-no"). But when they meet the culprit (a mole in a polka-dot dress, green flippers and goggles), they re-evaluate the situation. Thought bubbles and dynamic expressions make the simple story come to life; early readers will easily identify the emotional states of the three characters and predict the playful outcomes. Ages 4-up. (May) Copyright 2009 Reed Business Information.
(c) Copyright PWxyz, LLC. All rights reserved
School Library Journal PreS-Gr 2-Bliss has created an ideal graphic novel for emerging readers. While his dad is engaged in "boring talk" with a friend, Luke notices a flock of pigeons and chases after them. The birds lead him out of Central Park through Manhattan and across the Brooklyn Bridge to a quiet rooftop. The cartoon panels are so successful at engaging readers that young children do not have to be able to read the text to enjoy the story. Each drawing is filled with humorous details. In one scene children see a man proposing to his girlfriend before Luke leaps over his cafe table. Though he creates havoc wherever he goes, he remains oblivious to everything but the pigeons he is chasing. Children will enjoy his rambunctious adventure as he takes them on a spirited tour of New York City. In Benny and Penny, the children are suspicious that their new neighbor has stolen Benny's pail, so they sneak into her yard even though they know it's a "big no-no!" Through many misunderstandings, they learn to apologize and make a new friend. The simple text uses basic vocabulary and repetition, making it accessible to emerging readers. Young children will love the graphic-novel format and the sweet, charming illustrations will draw them into the narrative. Fans of Geoffrey Hayes's popular Benny and Penny: Just Pretend (Toon Bks., 2008) won't be disappointed with this sequel.-Mari Pongkhamsing, St. Perpetua School, Lafayette, CA Copyright 2009 Reed Business Information
(c) Copyright 2010. Library Journals LLC, a wholly owned subsidiary of Media Source, Inc. No redistribution permitted.