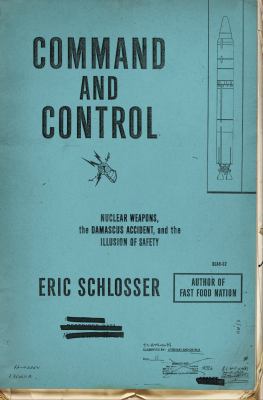 Command And Control
by Eric Schlosser


Publishers Weekly In 1980 in rural Damascus, Ark., two young Air Force technicians (one was 21 years old, the other 19) began a routine maintenance procedure on a 103-foot-tall Titan II nuclear warhead-armed intercontinental ballistic missile. All was going according to plan until one of the men dropped a wrench, which fell 70 feet before hitting the rocket and setting off a chain reaction with alarming consequences. After that nail-biting opening, investigative reporter Schlosser (Fast Food Nation) goes on to tell the thrilling story of the heroism, ingenuity, mistakes, and destruction that followed. At intervals, he steps back to deliver an equally captivating history of the development and maintenance of America's nuclear arsenal from WWII to the present. Though the Cold War has ended and concerns over nuclear warfare have mostly been eclipsed by the recent preoccupation with terrorist threats, Schlosser makes it abundantly clear that nukes don't need to be launched to still be mind-bogglingly dangerous. Mixing expert commentary with hair-raising details of a variety of mishaps, the author makes the convincing case that our best control systems are no match for human error, bad luck, and ever-increasing technological complexity. "Mutually assured destruction" is a terrifying prospect, but Schlosser points out that there may be an even more frightening possibility: self-assured destruction. Agent: Tina Bennett, WME Entertainment. (Sept.) (c) Copyright PWxyz, LLC. All rights reserved.
(c) Copyright PWxyz, LLC. All rights reserved
Library Journal Best-selling author Schlosser (Fast Food Nation) explores the history of America's attempts to make its nuclear weapons available for the purposes of deterrence while still safely storing them. The record, according to Schlosser, is very mixed, with thousands of minor to major accidents over the past 60 years. He recounts the major accident involving an armed nuclear missile silo in Damascus, AR, in September 1980, to show how complicated systems involving human actors inevitably fail and can easily result in catastrophe. Basing his conclusions on extensive interviews with those involved in the Damascus incident and many others, as well as on recently declassified records, Schlosser emphasizes that the U.S. military's demands for reliable nuclear weapons have prevailed over the concerns of weapon designers and civilian leadership about the need for safe weapons storage that would ensure low risk of accidental detonation. While Americans found intentional nuclear war a frightening prospect during the Cold War, accidental nuclear disasters were an unrecognized danger. VERDICT This is a welcome addition to a field dominated by books by nuclear-weapons and strategy experts. It will appeal to a general audience as an engrossing read about Cold War history as well as to those interested in nuclear weapons and U.S. national defense policy.-Mark Jones, Mercantile Lib., Cincinnati (c) Copyright 2013. Library Journals LLC, a wholly owned subsidiary of Media Source, Inc. No redistribution permitted.
(c) Copyright Library Journals LLC, a wholly owned subsidiary of Media Source, Inc. No redistribution permitted.
Choice Free-lance journalist Schlosser, author of the best-selling exposes Fast Food Nation (2001) and Reefer Madness (CH, Oct'03, 41-1043), has written a brilliant history of nuclear weapons in the US during the Cold War and after. Basing his work on extensive primary and secondary research (the endnotes take up 128 pages), the author deftly weaves together three topics: a general history of the arms race with a focus on command and control issues; an account of the substantial number of accidents involving nuclear weapons delivery systems; and a meticulously detailed description of a major explosion in a Titan missile silo in Damascus, Arkansas, in 1980. In a such a "big" and complex study, two main themes emerge: first, the US government kept all but the most obvious of the accidents secret and failed to respond in a timely fashion to fix the problems that caused accidents; second, the command and control systems were badly flawed, increasing the possibility of an accidental nuclear war. After reading this beautifully written work, readers will be left with the feeling that the world has been very fortunate to have avoided the accidental explosion of a US-based nuclear weapon. Summing Up: Highly recommended. All levels/libraries. A. O. Edmonds emeritus, Ball State University
Copyright American Library Association, used with permission.
Book list Nuclear bombs must be handled with the proper care, yet that is not always the case. Mentioning harrowing mishaps in the history of the American atomic arsenal, Schlosser singles out one for detailed dramatization, the explosion in 1980 of a Titan II missile. Some airmen were killed and injured, but since the warhead didn't detonate, the safety system appeared to have worked. Color Schlosser skeptical, for, as he recounts this accident, which began with a mundane incident a dropped tool that punctured the missile he delves into nuclear weapon designs. Those are influenced by the requirement that the bomb must always detonate when desired and never when not. Citing experts in the technology of nuclear weaponry who have pondered the never part of the requirement, Schlosser highlights their worry about an accidental nuclear explosion. Underscored by cases of dropped, burned, and lost bombs, the problem of designing a safe but reliable bomb persists (see also The Bomb, 2009, by weapons engineer Stephen Younger). Well researched, reported, and written, this contribution to the nuclear-weapons literature demonstrates the versatility of Schlosser, author of Fast Food Nation (2001).--Taylor, Gilbert Copyright 2010 Booklist
From Booklist, Copyright © American Library Association. Used with permission.