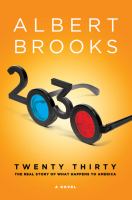 Publishers Weekly
(c) Copyright PWxyz, LLC. All rights reserved

Comedian and filmmaker Brooks welcomes the reader to the year 2030 in his smart and surprisingly serious debut. Cancer has been cured, global warming is an acknowledged reality, people have robot companions, and the president is a Jew-and oy vey does he have his hands full with an earthquake-leveled Los Angeles and a growing movement by the young to exterminate the elderly. And when the Chinese offer to rebuild L.A. in exchange for a half-ownership stake in Southern California, President Bernstein is faced with a decision that will alter the future of America. Brooks's sweeping narrative encompasses a diverse cast of characters, including an 80-year-old Angelino left homeless by the earthquake, a trust fund brat with a grudge against the elderly, and a teenage girl saddled with debt after her father's death, all of whom get brought together just in time for a climactic hostage crisis. Brooks's mordant vision encompasses the future of politics, medicine, entertainment, and daily living, resulting in a novel as entertaining as it is thought provoking, like something from the imagination of a borscht belt H.G. Wells (May) (c) Copyright PWxyz, LLC. All rights reserved.
---
Book list
From Booklist, Copyright © American Library Association. Used with permission.

Set a mere 19 years in the future, the debut novel from writer-actor-director Brooks hinges on America facing two pivotal crises: the destruction of Los Angeles by a massive earthquake, and the growing schism between the generations. President Matthew Bernstein quickly realizes how out of control the national debt is when he can't come up with the trillions of dollars needed to rebuild the decimated city. His new secretary of the treasury offers up the only viable solution: to try to borrow the money from China. As Bernstein deals with the natural disaster and its economic fallout, an insidious threat rises from within the country when terrorist groups of disaffected young people, frustrated by the financial burden put upon them by older generations, start attacking elderly people. In a world where cancer has been cured and people's life spans are increasing, younger generations are more disaffected than ever. Though not as optimistic as his afterlife comedy film Defending Your Life (1991), Brooks' vision of the future is credible and compelling.--Huntley, Kristin. Copyright 2010 Booklist
---
Library Journal
(c) Copyright 2010. Library Journals LLC, a wholly owned subsidiary of Media Source, Inc. No redistribution permitted.

Well known for his film and television work (e.g., Broadcast News), comedian, actor, and director Brooks has written a first novel, a futuristic story about America in the year 2030. Like many debuts, it has its share of weaknesses, mostly in terms of character development and plotting. Nonetheless, there is much here to engage readers. What is most stimulating is the future Brooks has imagined for America: cancer has been cured, and technology has extended life expectancy in miraculous ways, but America is hopelessly in debt, beset with the ravages of global warming, and dominated politically by AARP and a massive senior population. Bleak economic prospects have turned young people against "the olds" and have inspired acts of domestic terrorism. Some of this is predictable, of course, given current conditions in the United States, but Brooks has built in enough twists and surprises here to keep things interesting. VERDICT Despite some flaws, this is an intriguing vision of America's future. Recommended for fans of futuristic dystopian fiction. [See Prepub Alert, 11/8/10.]-Patrick Sullivan, Manchester Community Coll., CT (c) Copyright 2011. Library Journals LLC, a wholly owned subsidiary of Media Source, Inc. No redistribution permitted.