The Best School Year Ever
by Barbara Robinson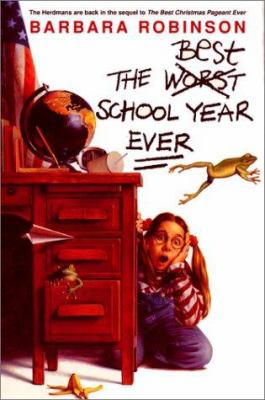 Book list
From Booklist, Copyright © American Library Association. Used with permission.
9780060230395
Gr. 3-5. Although neither quite as hilarious nor as unexpectedly moving as The Best Christmas Pageant Ever (1972), this sequel will still have children laughing out loud at the Herdmans' antics and believing that even such remarkably bad kids have some good qualities. The school year provides the framework for the story, narrated by Beth, who has Imogene Herdman in her class. As soon as the teacher announces that the yearlong class project will be "Compliments for Classmates," which involves writing down the other children's good qualities, it's inevitable that Beth will draw Imogene's name. And what do you say about a girl who swipes a classmate's baby brother, draws pictures on his head with markers, and charges folks a quarter for a look at the Amazing Tattooed Baby? Yet Robinson doesn't just play the Herdmans for laughs. Beth's identification of Imogene's strengths gives the book a level of humanity that makes the novel more than a series of humorous anecdotes. Readers can only hope that the Herdmans will not reform--at least not until after a few more sequels. Few characters in children's fiction are so unredeemed, so uncivilized, and so out-and-out funny. ~--Carolyn Phelan
Publishers Weekly
(c) Copyright PWxyz, LLC. All rights reserved
9780060230395
The many readers who have laughed out loud at Robinson's uproarious 1972 novel, The Best Christmas Pageant Ever , will enthusiastically welcome the return of the six cigar-smoking Herdman kids. These six waste no time bending rules: they break them outright. While the original story centered on the church Christmas pageant, the sequel has a broader focus, paving the way for more varied misadventures, virtually all of which the Herdmans craftily orchestrate. Among the dastardly deeds are the siblings' kidnapping of a bald baby, whose head they ``tattoo'' and show to other kids for a fee; their attempt to wash their cat (which is ``missing one eye and part of an ear and most of its tail and all of whatever good nature it ever had'') in a laundromat machine; and their ingenious sabotage of the school's Fire Safety Day observance. In one of the funniest scenes, cunning Imogene Herdman comes to the rescue of a boy whose head (thanks to Imogene's brother) is stuck in a bike rack: she flattens his prominent ears with Scotch tape and slathers his head with margarine so it slides through the bars. If this novel doesn't have quite the consistently razor-sharp repartee of its predecessor, it comes very, very close. Ages 8-up. 50,000 first printing. (Sept.) (c) Copyright PWxyz, LLC. All rights reserved
School Library Journal
(c) Copyright 2010. Library Journals LLC, a wholly owned subsidiary of Media Source, Inc. No redistribution permitted.
9780060230395
Gr 3-6-The long-awaited sequel to the popular The Best Christmas Pageant Ever (HarperCollins, 1972). A dangerous, shifty, fearless, cigar-smoking family of thieves and fight-instigators, the horrible Herdmans are distributed one per grade at Woodrow Wilson Elementary School, and it is unclear whether junior high or jail will be their next step. Sixth-grader Beth Bradley, the narrator, has the misfortune of drawing Imogene Herdman's name for a class project in which students must think of ``Compliments for Classmates'' at the end of the year. How will she find something good to say about Imogene? Just as the Herdmans discover something about the meaning of Christmas in the first book, Beth and her classmates realize that there is good in everyone-even in Imogene Herdman. While Beth's vignettes of the school year are hilarious, this story lacks the tension of the earlier novel, created by the build-up to the climactic event of the pageant. Nevertheless, this book is certain to be a hit with fans old and new.-Connie Tyrrell Burns, Mahoney Middle School, South Portland, ME (c) Copyright 2010. Library Journals LLC, a wholly owned subsidiary of Media Source, Inc. No redistribution permitted.