Towing Jehovah
by James Morrow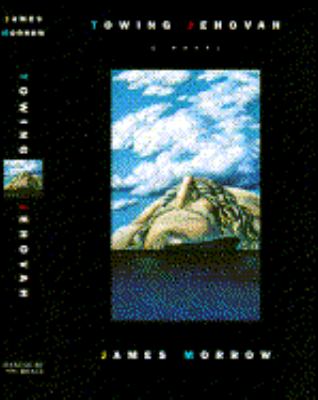 Book list
From Booklist, Copyright © American Library Association. Used with permission.
9780151909193
A past winner of the World Fantasy Award, Morrow could easily claim another prize, for the year's most outlandish fictional premise, if there were prizes for such things. When God Himself drops dead, leaving His two-mile-long corpse floating face up in the Atlantic, former sea captain Anthony Van Horne is recruited by a grieving archangel to haul the Corpus Dei to an icy tomb at the North Pole. Eager to redeem himself for indi~rectly causing the century's worst oil spill, Van Horne resumes command of his newly repaired supertanker, the Carpco Valparaiso, and speeds north with God in tow. Already faced with protecting the corpse against marauding predators from the air and the sea, Van Horne confronts a series of setbacks as absurd as the notion of his divine cargo--setbacks such as a plot by a rescued feminist castaway to bomb and sink the patriarchal corpse for the good of womankind. Writing a brand of masterfully understated comic prose all his own, Morrow is a genius, and this book is one of the most deliciously irreverent satirical sprees in years. ~--Carl Hays
Library Journal
(c) Copyright 2010. Library Journals LLC, a wholly owned subsidiary of Media Source, Inc. No redistribution permitted.
9780151909193
Anthony Van Horne, the disgraced captain of an oil tanker that spilled its cargo, is approached by the angel Raphael at the Cloisters in New York to command his former ship on an important mission. It seems God has died, and his two-mile-long corpse has fallen into the ocean at 0 latitude, 0 longitude. The Vatican would like the captain to tow God to a remote Arctic cave for a quiet burial. Naturally, things don't work out this simply, and the complications form the events of this splendid comic epic. As more and more folks with varying perspectives become aware of the covert mission, more hell, if you will, breaks loose. The author, an sf crossover, puts the weighty subject and its possible ramifications to clever use on many levels. He packs the story with sailing matters, cultural criticism, theology, physics, and more but still manages to keep the encounter bubbly and inviting. Recommended for general collections.-- Brian Geary, West Seneca, N.Y. (c) Copyright 2010. Library Journals LLC, a wholly owned subsidiary of Media Source, Inc. No redistribution permitted.
Publishers Weekly
(c) Copyright PWxyz, LLC. All rights reserved
9780151909193
God is dead, and Anthony Van Horne doesn't feel very well himself. Van Horne--whose captaincy of a mammoth oil tanker during an Exxon Valdez -type spill has left him unemployed, estranged from his family and suffering nightmares--is hired by the Vatican to pilot his former vessel as it tows the Supreme Being (found dead of unknown causes) to a tomb in the Arctic that His angels have built for Him. Van Horne's task would be difficult enough without the well-intentioned efforts of devout atheist Cassie Fowler and her compatriots from the Central Park West Enlightenment League, whose reactions to God's corporeality belie their organization's quaint name. Morrow (winner of a World Fantasy Award for his novel Only Begotten Daughter ) describes a captivating voyage. As complication builds upon complication--including a shipwreck, an island that appears to be the abode of pagan gods, a mutiny, acrimonious dealings with Van Horne's father and contretemps from both the reappraising Vatican and the WW II Reenactment Society--Van Horne's journal reads like that of a modern-day Odysseus. There's an unnecessary death that deprives the narrative of the perspective of one of its potentially most interesting characters, but this clever novel still stands as a wry, boisterous celebration. (May) (c) Copyright PWxyz, LLC. All rights reserved