City of Bones
by Michael Connelly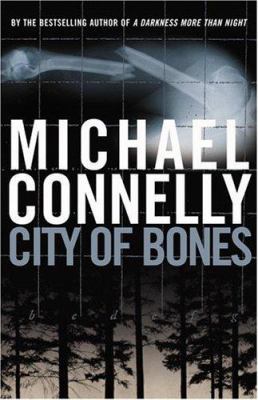 Publishers Weekly
(c) Copyright PWxyz, LLC. All rights reserved
9780316154055
Harry Bosch is at the top of his form which is great news for Connelly fans who might have been wondering how much life the dour, haunted LAPD veteran had left in him. His latest adventure is as dark and angst-ridden as any of Bosch's past outings, but it also crackles with energy especially in the details of police procedure and internal politics that animate virtually every page. What other crime writer could make such dramatic use of the fact that the front door of a house trailer swings out rather than in, creating problems for a two-man team of detectives? Who else would create to such credible narrative effect an egotistic celebrity coroner who jeopardizes an investigation because she lets a TV camera crew from Court TV follow her around, or an overage female rookie cop so in love with danger that she commits an unthinkable act? When the bones of an abused 12-year-old boy who disappeared in 1980 turn up in the woods above Hollywood (near a street named Wonderland, where former governor Jerry Brown used to live), the case stirs up Bosch's memories of his own troubled childhood. Also, as his captain so aptly points out, Harry is the LAPD's prime "shit magnet," an investigator who attracts muck and trouble wherever he goes. So it's no great surprise when the investigation takes a couple of nasty turns, right up through the last chapter. Connelly is such a careful, quiet writer that he can slow down the story to sketch in some relatively minor characters a retired doctor, a couple who lived through their foster children without missing a beat. (One-day laydown Apr. 16) Forecast: Connelly doesn't need much help in hitting the charts, but Little, Brown is going all out anyway, with a massive television, radio and print ad campaign, transit ads in New York and a 10-city author tour. Expect blockbuster sales and blockbuster satisfaction. (c) Copyright PWxyz, LLC. All rights reserved
Book list
From Booklist, Copyright © American Library Association. Used with permission.
9780316154055
"Child cases haunted you. They hollowed you out and scarred you. There was no bulletproof vest thick enough to stop you from being pierced." LAPD detective Harry Bosch gets pierced in the worst way this time. After a doctor out walking his dog in Laurel Canyon finds a human bone, forensic anthropologists unearth the rest of the skeleton and piece together part of the story: a 12-year-old boy was murdered around 1980 after being viciously abused for most of his brief life. Bosch picks up the trail, identifying the boy but encountering both investigatory and bureaucratic roadblocks as he attempts to close in on a suspect. Meanwhile, Bosch strikes up a romance with a rookie cop--against department regulations--and quickly finds himself in the midst of a personal and professional crisis. It doesn't help that, as he learns more about the dead boy, he keeps hearing echoes from his own troubled past. After spinning his wheels just a bit in his last two novels, Connelly regains his stride here. Like Ian Rankin's John Rebus, Bosch never stops feeling the bruises he has acquired through multiple encounters with evil. His view of the world darkens with each case, and he feels more and more powerless: "True evil could never be taken out of the world. At best he was wading into the dark waters of the abyss with two leaking buckets in his hands." Harry wanders deeper into that abyss this time than ever before, and it drives him to a shocking decision that will leave series fans reeling. Hard-boiled cop fiction at its most gripping. --Bill Ott
Library Journal
(c) Copyright 2010. Library Journals LLC, a wholly owned subsidiary of Media Source, Inc. No redistribution permitted.
9780316154055
Hard-boiled LAPD detective Harry Bosch, last seen in A Darkness More Than Light, has been working the beat for more than 25 years (and thrilling readers for more than ten), and he just keeps getting better. When the old bones of an abused, murdered child are uncovered in the hills of Laurel Canyon, Harry and partner Jerry Edgar are assigned the nearly impossible task of identifying the child and solving a murder committed 20 years ago. An orphan himself, Harry considers child abuse cases particularly difficult, but he finds some solace in the arms of Julia Brasher, an attractive recruit whom regulations say he shouldn't be seeing. As the investigation progresses, so does Harry's relationship with Julia until everything goes spectacularly wrong. This riveting thriller finds Harry even more introspective than usual, and while the tight prose of the plot swirls around the mystery of the bones, Harry's turbulent life and career are changed forever in a stunning conclusion. Another thrilling winner for Connelly's many fans; highly recommended. [Previewed in Prepub Alert, LJ 12/01.] Rebecca House Stankowski, Purdue Univ. Calumet Lib., Hammond, IN (c) Copyright 2010. Library Journals LLC, a wholly owned subsidiary of Media Source, Inc. No redistribution permitted.