Khrushchev: The Man and His Era
by William Taubman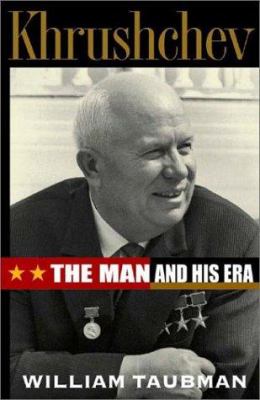 Publishers Weekly
(c) Copyright PWxyz, LLC. All rights reserved
9780393051445
Amherst College political science professor Taubman's thorough and nuanced account is the first full-length American biography of Khrushchev-and will likely be the definitive one for a long time. Russians, Taubman explains, are still divided by Khrushchev's legacy, largely because of the great contradiction at the heart of his career: he worked closely with Stalin for nearly 20 years, approved thousands of arrests and executions, and continued to idolize the dictator until the latter's death. Yet it was Khrushchev who publicly revealed the enormity of Stalin's crimes, denounced him, and introduced reforms that, Taubman argues, "allowed a nascent civil society to take shape"-eventually making way for perestroika. Taubman untangles the fascinating layers of deception and self-deception in Khrushchev's own memoir, weighing just how much the leader was likely to have known about the purges and his own culpability in them. He also shows that shadows of Stalinism lingered through Khrushchev's 11 years in power: his fourth-grade education left him both awed and threatened by the Russian intelligentsia, which he persecuted; intending to de-escalate the Cold War, the mercurial, blustering first secretary ended up provoking dangerous standoffs with the U.S. The bumbling, equivocal speeches quoted here make Khrushchev seem a rank amateur in international affairs-or, as Taubman politely puts it, he had trouble "thinking things through." Working closely with Khrushchev's children, and interviewing his surviving top-level Central Committee colleagues and aides, Taubman has pieced together a remarkably detailed chronicle, complete with riveting scenes of Kremlin intrigue and acute psychological analysis that further illuminates some of the nightmarish episodes of Soviet history. 32 pages of photos not seen by PW. (Mar.) (c) Copyright PWxyz, LLC. All rights reserved
Book list
From Booklist, Copyright © American Library Association. Used with permission.
9780393051445
Taubman masterfully replicates in his biography of Krushchev the career contrasts expressed by his grave marker--a bust framed half by black stone, half by white. Up to his elbows in blood, Khrushchev will nevertheless go down in history as the denouncer of Stalin. He partially denounced Stalin in the celebrated "secret speech" of 1956, and did so as a maneuver in a power struggle with inveterate Stalinists; however, his revulsion for Stalin's rule was genuine. The paradox of Khrushchev's complicity in the repression and his natural humanity induces Taubman to treat his life as a mirror of the entire Soviet experience. The author observes that the young Khrushchev might have been a successful factory manager but for the revolution. After initial hesitation, he joined the Bolsheviks in 1918 and in a dozen years ascended to Stalin's inner circle, enforcing the boss' edicts in various posts. Ambition, guilt, a true belief in Communism, and self-doubt churned within him, and the effects of his exuberant, tension-filled character, on the cold war and on Soviet domestic affairs up to his overthrow in 1964, close out Taubman's outstandingly composed work, assuredly the reference point for future writings on Khrushchev. --Gilbert Taylor
Library Journal
(c) Copyright 2010. Library Journals LLC, a wholly owned subsidiary of Media Source, Inc. No redistribution permitted.
9780393051445
There has been a surprising paucity of information produced about the baby boomers' biggest bogeyman. During the 1960s, Khrushchev's bluster and missile rattling jangled the nerves of a generation of Americans fearing a nuclear holocaust. Khrushchev's antics and methods provided the basis for Soviet behavior for the next 20 years and sowed the seeds of the disintegration of the Soviet Union. Taubman (political science, Amherst Coll.; Stalin's America Policy, Moscow Spring) has produced a massive biography that is both psychologically and politically revealing. According to Taubman, Khrushchev's rise in the Bolshevik party and patronage by Stalin can be partially laid to Stalin's diminutive stature. Though only 5'6", he still towered comfortably over Khrushchev at 5'1". Drawing on newly opened archives, Taubman threads together all the unanswered questions that Americans have, e.g., why did Khrushchev de-Stalinize Russia, and was Khrushchev himself implicated in Stalin's terrors? The shoe-banging incident, the Berlin Wall, Sputnik, and the Cuban Missile Crisis are all woven together with the accuracy of an academic and the style of a writer. Recommended for all public, academic, and special libraries.-Harry Willems, Southeast Kansas Lib. Syst., Iola (c) Copyright 2010. Library Journals LLC, a wholly owned subsidiary of Media Source, Inc. No redistribution permitted.
Choice
Copyright American Library Association, used with permission.
9780393051445
This is the first scholarly biography of Khrushchev. Generally, if Taubman (political science, Amherst College) errs, he errs on the side of kindness towards his subject. Although nothing is hidden, the sharp edges of this controversial and at times brutal man are smoothed off. Taubman shows that Khrushchev was as capable of knifing an opponent as was Stalin himself. Otherwise, he would not have ended up by the side of the dictator's deathbed in 1953. Stalin's brutal regime allowed Khrushchev to rise from humble beginnings, with limited education, to the top of world power. Yet, once he reached the pinnacle as ruler of Russia from 1956 to 1964, he more than anybody else was responsible for the collapse of the system that created him. Taubman sees Khrushchev as a gatekeeper of a historical epoch, with one foot in the bloody Soviet revolution and the other in the perestroika of Gorbachev. The study is an exemplar of scholarship, with an extensive bibliography and index. ^BSumming Up: Highly recommended. For all public and college libraries. A. Ezergailis Ithaca College