Master of the Senate
by Robert A. Caro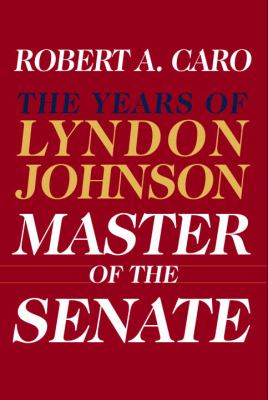 Choice
Copyright American Library Association, used with permission.
9780394528366
This third volume of a projected four-volume biography of Lyndon Johnson examines his two Senate terms. Whereas the first two volumes (The Path to Power, CH, Apr'83, and Means of Ascent, CH, Oct'90) portrayed an ambitious, ruthless, unremitting quest for power, this massive work examines Johnson in power. The result is more flattering, if only by degree. Caro shows Johnson's humanity, but also explores how earlier patterns blossomed in the Senate: Johnson nurtured relationships with older powerful men (Georgia Senator Richard Russell, acknowledged leader of the Southern Democrats); enlarged the authority of his office (majority leader); and humiliated adversaries (liberals Leland Olds of the Federal Power Commission and Senator Paul Douglas). Long digressions (traditional Senate power relationships, and Richard Russell's background) frame the Senate of the 1950s, where Johnson's superb legislative talents balanced northern liberal aspirations against Southern Democratic seniority and solidarity, and finally came to bear on civil rights. Convinced that Senate approval of a civil rights bill would legitimate his presidential candidacy, Johnson engineered approval of the 1957 Civil Rights Act, but allowed the bill to be eviscerated to gain Southern Democratic acceptance. Caro's achievement is extraordinary, although his focus on civil rights affords only cursory treatment of the period after 1957. All collections. A. J. Dunar University of Alabama in Huntsville
Publishers Weekly
(c) Copyright PWxyz, LLC. All rights reserved
9780394528366
As a genre, Senate biography tends not to excite. The Senate is a genteel establishment engaged in a legislative process that often appears arcane to outsiders. Nevertheless, there is something uniquely mesmerizing about the wily, combative Lyndon Johnson as portrayed by Caro. In this, the third installment of his projected four-volume life of Johnson (following The Path to Power and Means of Ascent), Caro traces the Texan's career from his days as a newly elected junior senator in 1949 up to his fight for the Democratic presidential nomination in 1960. In 1953, Johnson became the youngest minority leader in Senate history, and the following year, when the Democrats won control, the youngest majority leader. Throughout the book, Caro portrays an uncompromisingly ambitious man at the height of his political and rhetorical powers: a furtive, relentless operator who routinely played both sides of the street to his advantage in a range of disputes. "He would tell us [segregationists]," recalled Herman Talmadge, "I'm one of you, but I can help you more if I don't meet with you." At the same time, Johnson worked behind the scenes to cultivate NAACP leaders. Though it emerges here that he was perhaps not instinctively on the side of the angels in this or other controversies, the pragmatic Senator Johnson nevertheless understood the drift of history well, and invariably chose to swim with the tide, rather than against. The same would not be said later of the Johnson who dwelled so glumly in the White House, expanding a war that even he, eventually, came to loathe. But that is another volume: one that we shall await eagerly. Photos. (Apr.) Forecast: Both volumes one and two had long stays on PW's bestseller list, and those readers will flock to volume three, especially with the aid of a first serial in the New Yorker, a feature in the New York Times magazine, a 16-city author tour and undoubtedly ubiquitous review coverage. (c) Copyright PWxyz, LLC. All rights reserved
Book list
From Booklist, Copyright © American Library Association. Used with permission.
9780394528366
The obvious question about the third volume in Caro's dynamic, definitive biography of LBJ, following its award-winning predecessors, The Path to Power (1982) and Means of Ascent (1990), is: Does it live up to the profound success of the earlier volumes? The answer is a resounding yes. Caro now covers Johnson's career in the U.S. Senate (1949-61), where, remarkably quickly, he rose to majority leader. We primarily remember LBJ as the president confounded by the Vietnam War. But what Caro so authoritatively yet so rousingly shows us is Johnson's unprecedented and unsurpassed talent for leading the Senate exactly where he wanted it to go. And where he wanted it to go was, most significantly, in the direction of civil rights legislation; he laid the groundwork, with the Civil Rights Act of 1957, for the even greater civil rights legislation he secured from Congress during his presidency. What Caro also achieves so fully and compellingly is not only an understanding of Johnson's power and the psychological compulsions behind the accumulation and exercise of it but also an awareness of the U.S. Senate's moribund state, which it had slipped into decades before Johnson walked into the chamber. He succeeded in turning the upper house into a force to be reckoned with within the structure of the federal government. With first serial rights sold to the New Yorker, this is the biography of the season, and librarians should expect to order more than one copy. --Brad Hooper
Library Journal
(c) Copyright 2010. Library Journals LLC, a wholly owned subsidiary of Media Source, Inc. No redistribution permitted.
9780394528366
Lyndon Johnson's 12 years in the Senate (1949-61) were his happiest years, according to his wife, Lady Bird Johnson. They are the subject of this long-awaited third volume of Caro's biography, following The Path to Power (1982) and Means of Ascent (1990). Johnson was indeed the master of the Senate, becoming the youngest elected majority leader after only one term. His ruthless fight for power, which Caro focused on in his previous books, is present here. However, his goals, Caro notes, were not only selfish: he led the fight to break the reactionary Southern bloc, which allowed for the passage of the 1957 Civil Rights Act. This watered-down voting rights bill was significant as the first civil rights bill passed in 80 years, setting the precedent for the major civil rights legislation passed during Johnson's presidency. Caro praises Johnson as a great champion of all people of color and devotes much of the book to his evolution from an active participant in the racist Southern Caucus to a true believer in civil rights. While Robert Dallek's two-volume Flawed Giant and Lone Star Rising remain the best scholarly appraisal of Johnson, no other author narrates as gracefully Johnson's complexities, contradictions, and the people and events that contributed to them. Highly recommended for all libraries. [Previewed in Prepub Alert, LJ 12/01.] Karl Helicher, Upper Merion Twp. Lib., King of Prussia, PA (c) Copyright 2010. Library Journals LLC, a wholly owned subsidiary of Media Source, Inc. No redistribution permitted.