Chasing Vermeer
by Blue Balliett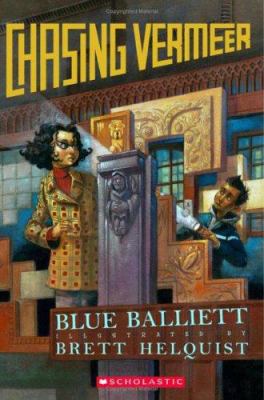 Publishers Weekly
(c) Copyright PWxyz, LLC. All rights reserved
9780439372947
Puzzles nest within puzzles in this ingeniously plotted and lightly delivered first novel that, revolving around the heist of a Vermeer painting, also touches on the nature of coincidence, truth, art and similarly meaty topics. Petra Andalee and Calder Pillay become friends in sixth grade at a school operated by the University of Chicago (Balliett taught at the University's Lab Schools), both of them independent thinkers excited by their maverick teacher, Ms. Hussey. For reasons unknown to her students, the teacher asks her class to ponder the importance of letters (the epistolary sort) and to mull over Picasso's ideas about art as "a lie that tells the truth." Readers have the edge on the characters, being privy to an enigmatic letter sent to three unidentified persons outlining a centuries-old "crime" against a painter's artistic legacy. These mysteries deepen exponentially when someone steals a Vermeer masterpiece and holds it hostage, demanding scholarly redress for misattributions within Vermeer's small oeuvre. The art mystery and the crisp intelligence of the prose immediately recall E.L. Konigsburg, but Balliett is an original: her protagonists also receive clues through dreams, pentominoes (math tools with alphabetic correspondences), secret codes (including some left to readers to decipher) and other deliberately non-rational devices. Helquist (the Lemony Snicket books) compounds the fun with drawings that incorporate the pentomino idea to supply visual clues as well. Thick with devilish red herrings, this smart, playful story never stops challenging (and exhilarating) the audience. Ages 8-12. (June) (c) Copyright PWxyz, LLC. All rights reserved
Book list
From Booklist, Copyright © American Library Association. Used with permission.
9780439372947
Gr. 5-8. The Westing Game, The Mixed-Up Files of Mrs. Basil E. Frankweiler--how exciting to find a book that conjures up these innovative, well-loved titles. That's exactly what Balliett does in her debut novel, which mixes mystery, puzzles, possibilities, and art. The story is set in Chicago's Hyde Park neighborhood at the University of Chicago's Lab School, where Balliett was a teacher. There, outsiders Petra and Calder become friends as they try to find out what happened to a missing Vermeer painting. That's really all the plot one needs to know. More important are Balliett's purpose in writing and the way she has structured her story. The former seems to be to get to children to think--about relationships, connections, coincidences, and the subtle language of artwork. To accomplish this, she peppers her story with seemingly random events that eventually come together in a startling, delightful pattern. The novel isn't perfect. It glides over a few nitty-gritty details (how did the thief nab the picture), and occasionally the coincidences seem more silly than serendipitous. However, these are quibbles for a book that offers children something new upon each reading. Adults who understand the links between children's reading and their developing minds and imaginations will see this as special, too. Helquist, who has illustrated the Lemony Snickett books, outdoes himself here, providing an interactive mystery in his pictures. --Ilene Cooper Copyright 2004 Booklist
School Library Journal
(c) Copyright 2010. Library Journals LLC, a wholly owned subsidiary of Media Source, Inc. No redistribution permitted.
9780439372947
Gr 5-8-Fans of Ellen Raskin's The Westing Game (Dutton, 1978) and E. L. Konigsburg's From the Mixed-Up Files of Mrs. Basil E. Frankweiler (Turtleback, 1967) will welcome this novel about two classmates determined to solve the mystery of a missing painting. Brainy 12-year-olds Petra Andalee and Calder Pillay attend the University of Chicago Laboratory School where their teacher's unorthodox methods make learning an adventure. When Vermeer's A Lady Writing disappears on its way to exhibition at the Art Institute of Chicago, the two overcome their adolescent awkwardness and let their friendship bloom, pooling their talents to rescue the masterpiece and expose the thief. Many elements play a role in unraveling the secrets surrounding the crime: Calder's set of pentominoes; his encoded correspondence with his friend Tommy about a missing boy named Frog; and Petra's intuitive communing with the woman in the painting, all augmented by the unusual ideas presented in a strange old book that Petra has found. Balliett also provides lots of plot twists and red herrings along the way. Helquist's atmospheric black-and-white illustrations add to the fun, incorporating clues to a secret message, the answer to which can be found on the publisher's Web site. Puzzles, codes, letters, number and wordplay, a bit of danger, a vivid sense of place, and a wealth of quirky characters enrich the exciting, fast-paced story that's sure to be relished by mystery lovers.-Marie Orlando, Suffolk Cooperative Library System, Bellport, NY (c) Copyright 2010. Library Journals LLC, a wholly owned subsidiary of Media Source, Inc. No redistribution permitted.