Bubbles Unbound
by Sarah Strohmeyer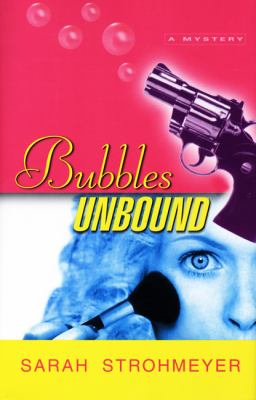 Book list
From Booklist, Copyright © American Library Association. Used with permission.
9780525945802
Having studied at the feet of the Master Evanovich, first-novelist Strohmeyer unleashes Lehigh, Pennsylvania's, Bubbles Yablonsky: big hair, big tits, and a big attitude despite a social-climbing ex and a job at the beauty parlor. Bubbles loves to do hair, but she's also working freelance for the local paper, hoping to move herself and her teenage daughter ahead in the world. A 10-year-old murder and a local teacher's attempted suicide spark Bubbles into action, and as if that weren't enough, there's a photographer, a Mel Gibson look-alike named--wait for it--Stiletto. The outlandishly intricate plot has more layers than Bubbles' makeup, but she kindly includes step-by-step instructions for soothing foot care and her daughter's Kool-Aid hair dye. It all comes out in the end, and Bubbles keeps Stiletto, er, hanging. A confection held together with gossip and hairspray. --GraceAnne A. DeCandido
Publishers Weekly
(c) Copyright PWxyz, LLC. All rights reserved
9780525945802
Meet Bubbles Yablonsky, beautician-reporter-sleuth and blazing star of Strohmeyer's entertaining, establishment-bashing debut as a mystery writer. Like the mills that gird the book's seen-better-days steel town of Lehigh, Pa., the city is itself a seething cauldron. Battle lines are sharply drawn between the haves and have-nots. Bubbles is hell-bent on getting even with the overlords, especially her former husband, a heel who has gone over to the other side. Opportunity knocks when Bubbles incriminates a wealthy socialite in a brutal murder and then uncovers a murky past, where corpses are littered around the accused's steel-magnate husband. The going is never easy, as Bubbles faces more perils than Pauline: falling off a bridge in the arms of a potential suicide; dodging drive-by gunmen and car bombers; being handcuffed and fitted for cement boots; and always searching for a better way to display her cleavage. Armed with her certificate from Two Guys Community College, abetted by a quirky array of social castoffs and fueled by Doritos, Velveeta and Diet Pepsi, Bubbles overcomes every obstacle on her way to shaking the foundations of the corporate world and, in the process, leaving more than a few wrinkles in her ex's tailored Brooks Brothers suits. Hop in the Camaro and buckle up: Bubbles is behind the wheel, and a wild ride awaits. Agent, Heather Schroder at ICM. (Mar. 19) (c) Copyright PWxyz, LLC. All rights reserved
Library Journal
(c) Copyright 2010. Library Journals LLC, a wholly owned subsidiary of Media Source, Inc. No redistribution permitted.
9780525945802
Bubbles Yablonsky, a 34-year-old hairdresser/divorcee, may dress and look like a blonde Barbie-doll bimbo, but she aspires to a more brain-intensive job as an investigative journalist. She grabs her main chance when she and a hunky but elusive photographer named Stiletto discover a dead bodyDalong with the apparent perpetrator, who is drunk and just happens to be the antidrug-crusading wife of a local steel magnate. Suffice to say, Bubbles's revelatory story causes endless repercussions. A sexy, irrepressible heroine, riotous supporting characters, continual action, ubiquitous humor, and even a makeup tip or two make this a highly recommended series debut. (c) Copyright 2010. Library Journals LLC, a wholly owned subsidiary of Media Source, Inc. No redistribution permitted.