Comanche Moon
by Larry McMurtry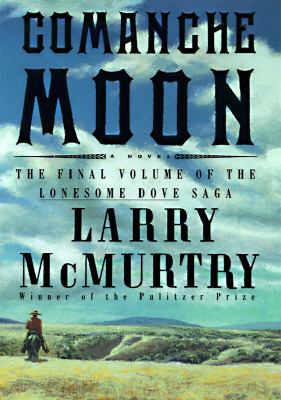 Book list
From Booklist, Copyright © American Library Association. Used with permission.
9780684807546
At the conclusion of McMurtry's epic masterpiece, Lonesome Dove, Ranger Woodrow Call is haunted by the human cost of his determination to drive cattle to Montana. "A hell of a vision," he sarcastically comments to a reporter. For McMurtry, the experience of the Hat Creek Cattle Company served as a metaphor for much of the frontier experience; it was heroic, ennobling of spirit, but, in the end, heartbreaking. Comanche Moon is the fourth of the Ranger series and the second prequel to Lonesome Dove. Here, as Texas anticipates the outbreak of the Civil War, Gus McRae and Woodrow Call are relatively young men. Their rangering activities are primarily directed at subduing the declining but still deadly Comanches. In this panorama of antebellum Texas, McMurtry reintroduces familiar characters, some fiction, some historical, some endearing, and some terrifying, including Deets, the black scout; Clara, the longtime love of Gus McRae; Buffalo Hump, the fierce, primitive Comanche warrior; and Buffalo Hump's sociopathic son, Blue Duck. McMurtry's depiction of the West is far removed from the dime-novel portrayal of constant excitement and adventure. Instead, white settlers, rangers, and Comanches endure long periods of grinding tedium, punctuated by spasms of deadly violence, which often arrive with seemingly silent inevitability. As usual, McMurtry's narrative unfolds slowly, as the reader is gradually introduced to time, place, and people; yet the plot is consistently engrossing, and McMurtry's revisionist vision of frontier life is always compelling. --Jay Freeman
Library Journal
(c) Copyright 2010. Library Journals LLC, a wholly owned subsidiary of Media Source, Inc. No redistribution permitted.
9780684807546
This prequel to the classic Lonesome Dove (LJ 7/85) follows Woodrow Call and Augustus McCrae through their years as Texas Rangers as they create legends for themselves fighting the Comanche to open west Texas for settlement. For 15 years, the Rangers play cat-and-mouse games with Buffalo Hump, Kicking Wolf, and other chiefs as they pursue, attack, and retaliate their way through the Comanche wars. Ironically, Blue Duck, Gus McCrae's nemesis in Lonesome Dove, is Buffalo Hump's son, carrying on the tradition started by his father, even though father and son hated one another. Considered together, Dead Man's Walk (LJ 4/15/95), Comanche Moon, and Lonesome Dove create a monumental work that has few equals in current literature. Essential for all libraries. [Previewed in Prepub Alert, LJ 7/97; a Comanche Moon mini-series is in the works.]?Thomas L. Kilpatrick, Southern Illinois Univ. Lib., Carbondale (c) Copyright 2010. Library Journals LLC, a wholly owned subsidiary of Media Source, Inc. No redistribution permitted.