Ernie Pyles War
by James Tobin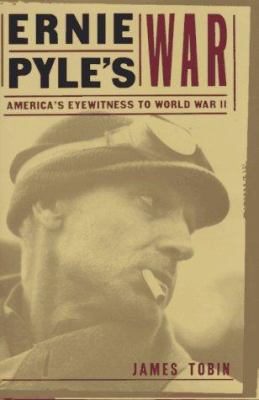 Book list
From Booklist, Copyright © American Library Association. Used with permission.
9780684836423
Tobin pays homage to Ernie Pyle, America's most celebrated and beloved war correspondent. Living and working among the troops he so vividly chronicled, Pyle offered a unique insider's perspective of the harsh reality experienced by the common soldier during World War II. His superlative front-line coverage was devoured by citizens on the home front, who hungered for news of their "boys" in uniform. Unlike most other war correspondents, Pyle gave faces and voices to the ordinary GIs who populated the horrific battlefields of Europe, North Africa, and the Pacific Islands. Pyle's death in combat, alongside the ordinary soldiers he admired and extolled, served as an especially fitting postscript to his extraordinary career as an eyewitness to war. A respectful and insightful biography of a giant among journalists. Margaret Flanagan
Choice
Copyright American Library Association, used with permission.
9780684836423
Tobin argues that Ernie Pyle, an insecure and anxious man, struggled all his life with inner demons and a tortured marriage. War, in fact, offered Pyle an escape from his own personal hell. The author does a masterful job of interweaving pertinent portions of Pyle's many columns within a very helpful chronological and historical context of WW II as the correspondent followed the troops from North Africa to Italy to Normandy and then across the Pacific to Okinawa, where he was killed. Through Tobin, one observes in Pyle's writing a person with a shrewd understanding of human nature, an unexcelled eye for detail, and a profound ability to identify with the suffering and privation of the ordinary foot soldiers. This book adds significantly to knowledge of the "Good War." The work is based mainly on Pyle's columns. Endnotes and photographs included. For further reading see Pyle's three books: Here Is Your War (1943), Brave Men (1944), and Last Chapter (1946). All levels. R. E. Marcello; University of North Texas
Publishers Weekly
(c) Copyright PWxyz, LLC. All rights reserved
9780684836423
No one on the flat plains of western Indiana could have foretold that a small, homely, self-deprecating farm boy would experience a meteoric rise to folk hero status, but that is what WWII war correspondent Ernie Pyle (1900-1945) did. Tobin, a reporter for the Detroit News, has written an superbly documented and compassionate account of Pyle's war encounters and his poignant newspaper columns that brought frontline life to the folks back home. Beloved by G.I.s and the American reading masses, Pyle was the champion of the long suffering G.I., a type who was portrayed by Pyle as being akin to Bill Mauldin's cartoon G.I., "Sad Sack," but who, in Pyle's words, "triumphed over death through dogged perseverance." His columns were crucial to morale. Slogging with the infantry through North Africa, Italy and France, Pyle, who was eventually killed on an island near Okinawa, avoided reporting on all the bloody brutality he saw, as he knew that such frankness would lead to discouragement and despair. He managed, however, to convey that horrors lay beneath his rhythmic, conversational depictions of ordinary Joes: "These are just guys from Broadway and Main Street, but you wouldn't remember them. They are too far away now. They are too tired. Their world can never be known to you." The day-by-day feel of Tobin's narrative nearly matches the immediacy of the dispatches themselves, and he does an excellent job of recreating "The Pyle Phenomenon"?the extraordinary grip the columns had over America's wartime imagination. (June) (c) Copyright PWxyz, LLC. All rights reserved