Goin Someplace Special
by Jerry Pinkney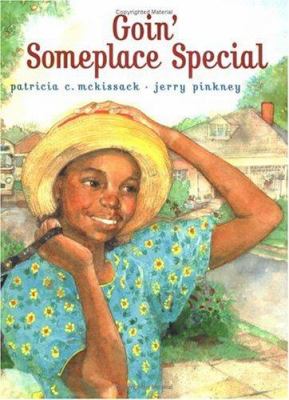 Book list
From Booklist, Copyright © American Library Association. Used with permission.
9780689818851
Ages 5-8. Tricia Ann excitedly gets her grandmother's permission to go out by herself to "Someplace Special" --a place far enough away to take the bus and to have to walk a bit. But this isn't just any trip. Tricia's trip takes place in the segregated South of the 1950s. That means Tricia faces sitting at the back of the bus, not being allowed to sit on a whites-only park bench, and being escorted out of a hotel lobby. She almost gives up, but a local woman who some say is "addled," but whom Tricia Ann knows to be gentle and wise, shows her how to listen to the voice inside herself that allows her to go on. She arrives at her special destination--the public library, whose sign reads "All Are Welcome." Pinkney's watercolor paintings are lush and sprawling as they evoke southern city streets and sidewalks as well as Tricia Ann's inner glow. In an author's note, McKissack lays out the autobiographical roots of the story and what she faced as a child growing up in Nashville. This book carries a strong message of pride and self-confidence as well as a pointed history lesson. It is also a beautiful tribute to the libraries that were ahead of their time.--Denise Wilms
School Library Journal
(c) Copyright 2010. Library Journals LLC, a wholly owned subsidiary of Media Source, Inc. No redistribution permitted.
9780689818851
Gr 3-5-'Tricia Ann's first solo trip out of her neighborhood reveals the segregation of 1950s' Nashville and the pride a young African-American girl takes in her heritage and her sense of self-worth. In an eye-opening journey, McKissack takes the child through an experience based upon her own personal history and the multiple indignities of the period. She experiences a city bus ride and segregated parks, restaurants, hotels, and theaters and travels toward "Someplace Special." In the end, readers see that 'Tricia Ann's destination is the integrated public library, a haven for all in a historical era of courage and change. Dialogue illustrates her confidence and intelligence as she bravely searches for truth in a city of Jim Crow signs. Pinkney re-creates the city in detailed pencil-and-watercolor art angled over full-page spreads, highlighting the young girl with vibrant color in each illustration. A thought-provoking story for group sharing and independent readers.-Mary Elam, Forman Elementary School, Plano, TX (c) Copyright 2010. Library Journals LLC, a wholly owned subsidiary of Media Source, Inc. No redistribution permitted.
Publishers Weekly
(c) Copyright PWxyz, LLC. All rights reserved
9780689818851
McKissack draws from her childhood in Nashville for this instructive picture book. "I don't know if I'm ready to turn you loose in the world," Mama Frances tells her granddaughter when she asks if she can go by herself to "Someplace Special" (the destination remains unidentified until the end of the story). 'Tricia Ann does obtain permission, and begins a bittersweet journey downtown, her pride battered by the indignities of Jim Crow laws. She's ejected from a hotel lobby and snubbed as she walks by a movie theater ("Colored people can't come in the front door," she hears a girl explaining to her brother. "They got to go 'round back and sit up in the Buzzard's Roost"). She almost gives up, but, buoyed by the encouragement of adult acquaintances ("Carry yo'self proud," one of her grandmother's friends tells her from the Colored section on the bus), she finally arrives at Someplace Special a place Mama Frances calls "a doorway to freedom" the public library. An afterword explains McKissack's connection to the tale, and by putting such a personal face on segregation she makes its injustices painfully real for her audience. Pinkney's (previously paired with McKissack for Mirandy and Brother Wind) luminescent watercolors evoke the '50s, from fashions to finned cars, and he captures every ounce of 'Tricia Ann's eagerness, humiliation and quiet triumph at the end. Ages 4-8. (Sept.) (c) Copyright PWxyz, LLC. All rights reserved