Moses: When Harriet Tubman Led Her People to Freedom
by Carole Boston Weatherford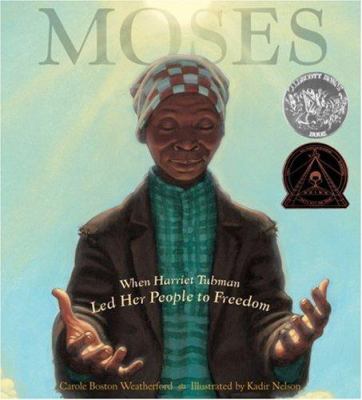 Book list
From Booklist, Copyright © American Library Association. Used with permission.
9780786851751
Weatherford's handsome picture book about Harriet Tubman focuses mostly on Tubman's religious inspiration, with echoes of spirituals ringing throughout the spare poetry about her struggle ("Lord, don't let nobody turn me 'round"). God cradles Tubman and talks with her; his words (printed in block capitals) both inspire her and tell her what to do ("SHED YOUR SHOES; WADE IN THE WATER TO TRICK THE DOGS"). Nelson's stirring, beautiful artwork makes clear the terror and exhaustion Tubman felt during her own escape and also during her brave rescue of others. There's no romanticism: the pictures are dark, dramatic, and deeply colored--whether showing the desperate young fugitive "crouched for days in a potato hole" or the tough middle-aged leader frowning at the band of runaways she's trying to help. The full-page portrait of a contemplative Tubman turning to God to help her guide her people is especially striking. --Hazel Rochman Copyright 2006 Booklist
Publishers Weekly
(c) Copyright PWxyz, LLC. All rights reserved
9780786851751
In this gorgeous, poetic picture book, Weatherford (The Sound that Jazz Makes) depicts Harriet Tubman's initial escape from slavery and her mission to lead others to freedom as divinely inspired, and achieved by steadfast faith and prayer. The author frames the text as an ongoing dialogue between Tubman and God, inserting narration to move the action along. On the eve of her being sold and torn from her family, Tubman prays in her despair. In response, "God speaks in a whip-poor-will's song. `I set the North Star in the heavens and I mean for you to be free.' " The twinkling star encourages Tubman: "My mind is made up. Tomorrow, I flee." The book's elegant design clearly delineates these elements Harriet's words in italic, God's calming words in all caps drifting across the pages, the narrator's words in roman typeface and makes this read like a wholly engrossing dramatic play. Nelson's (He's Got the Whole World in His Hands) finely rendered oil and watercolor paintings, many set in the rural inky darkness of night, give his protagonist a vibrant, larger-than-life presence, befitting a woman who became known as the Moses of her people. His rugged backdrops and intense portraits convey all the emotion of Tubman's monumental mission. A foreword introduces the concept of slavery for children and an author's note includes a brief biography of Tubman. Ages 5-8. (Sept.) (c) Copyright PWxyz, LLC. All rights reserved
School Library Journal
(c) Copyright 2010. Library Journals LLC, a wholly owned subsidiary of Media Source, Inc. No redistribution permitted.
9780786851751
Gr 2-5-Tubman's religious faith drives this handsome, poetic account of her escape to freedom and role in the Underground Railroad. The story begins with Tubman addressing God on a summer night as she is about to be sold south from the Maryland plantation where she and her husband live: "I am Your child, Lord; yet Master owns me,/drives me like a mule." In resounding bold text, God tells her He means for her to be free. The story is sketched between passages of prayerful dialogue that keep Tubman from giving up and eventually call upon her to be "the Moses of [her] people." Deep scenes of night fill many double pages as the dramatic paintings follow her tortuous journey, arrival in Philadelphia, and later trip to guide others. Shifting perspectives and subtle details, such as shadowy forest animals guarding her while she sleeps, underscore the narrative's spirituality. Whether filled with apprehension, determination, or serenity, Tubman's beautifully furrowed face is expressive and entrancing. A foreword briefly explains the practice of slavery and an appended note outlines Tubman's life. The words and pictures create a potent sense of the harsh life of slavery, the fearsome escape, and one woman's unwavering belief in God.-Margaret Bush, Simmons College, Boston (c) Copyright 2010. Library Journals LLC, a wholly owned subsidiary of Media Source, Inc. No redistribution permitted.