Vernon God Little
by DBC Pierre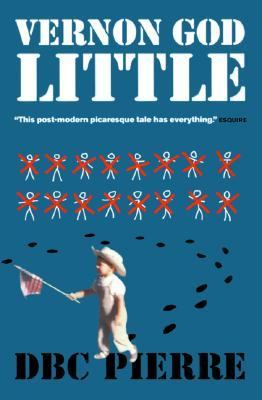 Publishers Weekly
(c) Copyright PWxyz, LLC. All rights reserved
9781841954608
Pierre takes a freewheeling, irreverent look at teenage Sturm und Drang in his erratic, sometimes darkly comic debut novel about a Texas boy running from the law in the wake of a gory school shooting. Vernon Gregory Little is the 15-year-old protagonist, a nasty, sarcastic teenager accused of being an accessory to the murders committed by his friend Jesus Navarro in tiny Martirio, "the barbecue sauce capital of Texas." Vernon manages to make bail and avoid the media horde that descends on the town after the killings, but he's unable to get to the other gun-his father's-which he knows will tie him to the crime, despite his innocence. His flight path takes him first to Houston, where he unsuccessfully tries to hook up with gorgeous former schoolmate Taylor Figueroa; the crafty beauty, promised a media job by the evil Lally, who's also duped Vernon's mom, follows him to Mexico and efficiently betrays him. Most of the plotting feels like an excuse for Vernon's endless, sharply snide riffs on his small town and the unique excesses of America that helped spawn the killings. Unfortunately, Vernon's voice grows tiresome, his excesses make him rather unlikable and the over-the-top, gross-out humor is hit-or-miss. Pierre's wild energy offers entertaining satire as well as cringe-provoking scenes, and though he can write with incisive wit, this is a bumpy ride. (c) Copyright PWxyz, LLC. All rights reserved
Book list
From Booklist, Copyright © American Library Association. Used with permission.
9781841954608
In the wake of The Onion's devastatingly funny riffs on 9/11 comes this satiric first novel about the fallout from a Columbine-like shooting in Martirio, Texas, the barbecue-sauce capital of America. Vernon God Little has been mistakenly identified as the shooter in a rampage that left 16 dead at the local high school. Stalked by the media, Vernon feels like his life has turned into a TV movie (he hopes Brian Dennehy will be his lawyer). His mother and her frighteningly simple-minded suburban posse of friends think that emotional support consists of a continuous supply of ribs from the Bar-B-Chew Barn, although Vernon is facing the death penalty. Every page is saturated with a humor that barely masks Pierre's contempt for the media, the criminal justice system, and the rampant materialism of contemporary culture. Scatological, irreverent, crass, and very, very funny, the novel is told at an absolutely manic pace and will have readers wincing even as they laugh out loud. Pierre is a comic anarchist with talent to spare. --Joanne Wilkinson Copyright 2003 Booklist
Library Journal
(c) Copyright 2010. Library Journals LLC, a wholly owned subsidiary of Media Source, Inc. No redistribution permitted.
9781841954608
Published to critical acclaim in England, this first novel is a satirical look at contemporary America viewed through the eyes of Vernon Little, a 15-year-old who is the sole survivor of a high school massacre. Vernon's best friend, Jesus Navarro, was the shooter; but since Jesus is dead, the town makes Vernon their scapegoat. Pierre, whose real name is Peter Finlay and who occasionally visited Texas while growing up in Mexico, paints a black picture of a place where a boy can be executed before he is old enough to buy a drink legally, where a mother is more concerned about getting a new refrigerator than her innocent son's having been accused of mass murder. The stereotypes are broad: poor Mexicans are noble; white Texans are idiots; women are mindless, materialistic gossips; and convicted murderers are more humane than people outside. America may have difficulty finding the humor in this novel, but equally troubling is the inauthenticity of the narrative voice. Purchase only for libraries with sophisticated readers, far away from Texas.-Andrea Kempf, Johnson Cty. Community Coll. Lib., Overland Park, KS (c) Copyright 2010. Library Journals LLC, a wholly owned subsidiary of Media Source, Inc. No redistribution permitted.