My Beloved World
by Sonia Sotomayor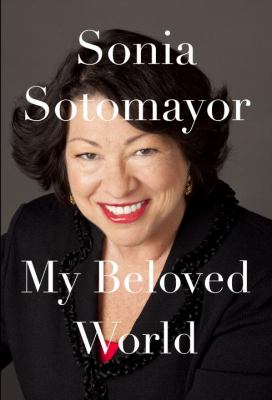 Book list
From Booklist, Copyright © American Library Association. Used with permission.
9780307594884
*Starred Review* When Sotomayor joined the U.S. Supreme Court in 2009, she made history as the first Hispanic on the high court. She'd also achieved the highest dream of a Puerto Rican girl growing up in a Bronx housing project longing to someday become a judge. In this amazingly candid memoir, Sotomayor recalls a tumultuous childhood: alcoholic father, emotionally distant mother, aggravating little brother, and a host of aunts, uncles, and cousins, all overseen by her loving, domineering paternal grandmother. When she was diagnosed with juvenile diabetes at eight years of age, she knew she had to learn to give herself the insulin shots. That determination saw her through Catholic high school, Princeton, and Yale Law School, at each step struggling to reconcile the poverty of her childhood with the privileges she was beginning to enjoy. No rabble-rouser, she nonetheless was active in student groups supporting minorities. At Yale, she learned how to think about jurisprudence, but readers looking for clues to her judicial thinking will be disappointed as she deliberately demurs. She recounts complicated feelings toward her parents and her failed marriage as she advanced to the DA's office, private practice, the district court, and, triumphantly, the Supreme Court. Sotomayor offers an intimate and honest look at her extraordinary life and the support and blessings that propelled her forward. HIGH-DEMAND BACKSTORY: A media blitz will attend the release of this already newsworthy memoir by the Supreme Court's first Hispanic justice.--Bush, Vanessa Copyright 2010 Booklist
Library Journal
(c) Copyright 2010. Library Journals LLC, a wholly owned subsidiary of Media Source, Inc. No redistribution permitted.
9780307594884
In this revealing memoir, Supreme Court Justice Sotomayor candidly and gracefully recounts her formative years growing up in the South Bronx in "a tiny microcosm of Hispanic New York City," among an extended family of Puerto Rican immigrants. Her descriptions of the neighborhoods, relatives, and routines of those years are vital, loving, and incisive, as she traces her growth into adulthood, and examines both strengths and failings. She then moves on to her decision to apply to Ivy League colleges, the challenges of coping with unfamiliar environments, her education at Princeton (with the library as her refuge), and her education and career as a lawyer, assistant district attorney, and newly appointed judge in 1992, at which point she draws to a close. Throughout, Sotomayor summons forth the stories that influenced her drive and character, while also painting evocative portraits of scenes and loved ones long gone. An early example: diagnosed as diabetic at age seven, Sotomayor quickly saw that household volatility meant she must be responsible for her own insulin injections; her memoir shows both her continued self-reliance and her passion for community. -VERDICT Sure to be in demand. Recommended for all readers from advanced junior high on up.-Margaret -Heilbrun, Library Journal (c) Copyright 2012. Library Journals LLC, a wholly owned subsidiary of Media Source, Inc. No redistribution permitted.
Publishers Weekly
(c) Copyright PWxyz, LLC. All rights reserved
9780307594884
U.S. Supreme Court Justice Sotomayor, born poor in the South Bronx and appointed to the federal bench as its first Hispanic justice, recounts numerous obstacles and remarkable achievements in this personal and inspiring autobiography. Her path to the highest court in the land was rife with difficulties, but it wasn't circuitous-from an early age, Sotomayor was determined to become a lawyer. To reach her goal she overcame diabetes, the language barrier (her Puerto Rican family spoke Spanish at home), the early death of her beloved alcoholic father, and-in the academic and professional worlds-the disparaging of minorities. In some respects, her story-that of a second-generation immigrant rallying familial support, educational opportunities, and plenty of ambition and discipline to realize the American dream-is familiar, but her extraordinary success makes her experience noteworthy. Sotomayor is clear-eyed about the factors and people that helped her succeed, and she is open about her personal failures, foremost among them an unsuccessful marriage. Regardless of political philosophies, readers across the board will be moved by this intimate look at the life of a justice. 16 pages of photos. Announced first printing: 200,000. Agent: Peter Bernstein, Bernstein Literary Agency. (Jan. 16) (c) Copyright PWxyz, LLC. All rights reserved.