Fixing Delilah
by Ockler, Sarah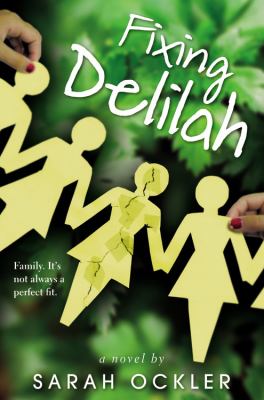 Publishers Weekly
(c) Copyright PWxyz, LLC. All rights reserved
9780316052092
Delilah Hannaford's grandmother was estranged from her daughters for eight years, but when she dies, 16-year-old Delilah, her workaholic mother, and her tarot-reading aunt spend the summer at the family lake house, tying up loose ends with her estate-and within their family. Well-written and ambitious, Ockler's (Twenty Boy Summer) book is a bit overstuffed with secrets: what exactly happened eight years ago? why doesn't anyone talk about her mother's youngest sister, who died as a teenager? Delilah even learns that her father is not who she thought he was. Readers may have a hard time knowing where to focus, especially when a romance with a long-lost childhood friend is mixed in, plus Delilah's strained relationship with her mother and the discovery of her dead aunt's secret diary. Even so, Delilah's gradual acceptance of her family's complicated history feels authentic, as does her growing ability to recognize her own flawed coping mechanisms. Readers will appreciate her honest assessment that while the Hannaford women cannot fix all past hurts, "some of them can be repaired, piece by piece, rebuilt into something even more cherished and loved and unique." Ages 12-up. (Dec.) (c) Copyright PWxyz, LLC. All rights reserved.
School Library Journal
(c) Copyright 2010. Library Journals LLC, a wholly owned subsidiary of Media Source, Inc. No redistribution permitted.
9780316052092
Gr 8 Up-When Del's grandmother's dies, the teen and her mother, Claire, immediately head to Red Falls, VT. The house is a Victorian relic where her mother and aunt grew up and it holds fond memories for Del, particularly of Rickie, the boy who was once her inseparable companion. An unexplained fight between her mother and her grandmother ended any contact. Claire is a secretive sort who has a demanding job and seems to pay attention only when Del gets in trouble, and Del has obliged. The summer is spent working on clearing the house and repairing it to get it ready to sell, with the aid of Rickie, now known as Patrick, and his father, who run a construction business. Romance ensues, along with uncovering clues about the family mystery regarding an aunt who died at age 19. Although the plot is sometimes melodramatic, romance lovers will enjoy the tender love scenes, while more practical folk may tire of Del's vacillations and whining. The ending seems telegraphed, and nothing is new, except a friend who declares herself a lesbian. The story will satisfy readers who crave romance that focuses on the moments spent kissing and touching rather than on the sex.-Carol A. Edwards, Denver Public Library, CO (c) Copyright 2010. Library Journals LLC, a wholly owned subsidiary of Media Source, Inc. No redistribution permitted.
Book list
From Booklist, Copyright © American Library Association. Used with permission.
9780316052092
Tragedy and deception tore 17-year-old Delilah's family apart nearly a decade ago. After her grandmother dies, Delilah and her mother head to Vermont for another summer at the family home, where they settle the estate and revive unresolved family matters. Delilah discovers her deceased aunt Stephanie's lost diary; as she reads about her teenage aunt's relationships and her slip into depression, Delilah is worried to see parallels in her own life. She also learns of the secret that split the family apart, and threatens to do so again. A nice cast of characters adds a homey feel and small-town color to the narrative, including Patrick, Delilah's childhood buddy, who has grown steadfast and handsome. Ockler's follow-up to 20 Boy Summer (2009) is another perfect fit for those seeking expressive writing, emotional depth, and lush, cinematic romance, cementing her comfortably next to similar teen favorites like Deb Caletti, Carolyn Mackler, and Sarah Dessen.--Booth, Heather Copyright 2010 Booklist